This Subway Employee's TikTok Claps Back At Tuna Haters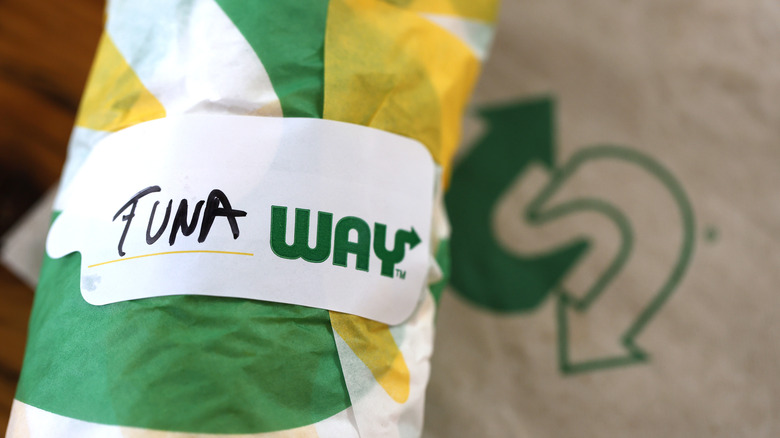 Justin Sullivan/Getty Images
Apparently, there are two types of Subway customers: those who love the tuna sandwich, and those who despise it with a burning passion. Despite the fact that the infamous lawsuit alleging Subway used fake tuna was ultimately dismissed, customers continue to hate on the sandwich. In fact, it even caused a heated debate in the comments section of a certain viral TikTok video posted by a self-identified Subway employee.
In the video, the TikTok user, who goes by @secret.subway.sup, demonstrates exactly how the tuna salad is prepared from start to finish. She dumps two packages of tuna into a large bowl, breaks up the chunks by (gloved) hand, then adds in a generous amount of mayonnaise before transferring the mixture to separate serving containers. The user also shared that, as per the instructions from Subway, she's technically supposed to add an entire bag of mayonnaise; however, she instead adds either half or three-fourths of the bag. That way, customers can actually taste the tuna.
For many who viewed the video, this ratio was a red flag. "They use more mayo to make the product last longer!" one commenter speculated. Another added, "You say it's way too much mayo, so you change the amount, and it's all based on your preference."
Is Subway's tuna sandwich mix a recipe for success?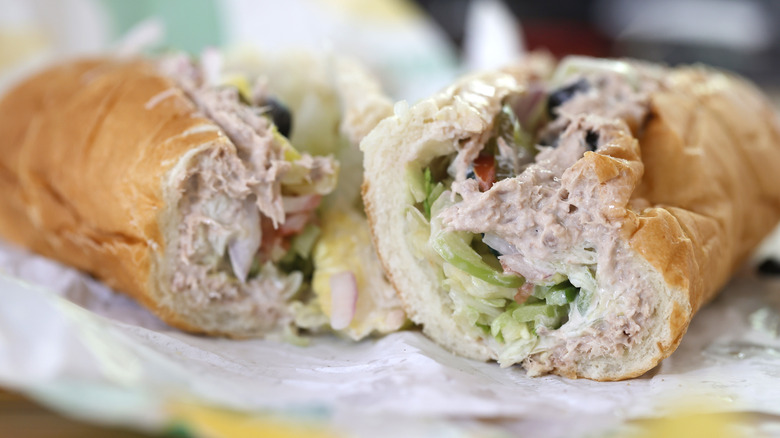 Justin Sullivan/Getty Images
In response to the negative comments on her tuna exposé, @secret.subway.sup posted a follow-up TikTok video clarifying why she prepares it like that (via TikTok). In short, it's because she's instructed to. "This is not personal preference. This is what the managers have told me to do at both stores I worked at," she stated. She explains in her caption that if you prefer more mayo in your tuna sandwich, you can simply request more, just as with any other Subway sandwich. To drive her point home, she goes on to showcase exactly how the tuna would look if it were made with the entire bag of mayonnaise. It's basically a paste.
Many others who also claim to be current or former Subway employees quickly hopped to her defense. "I work at Subway as well! When you put too much mayo, it literally leaks out of the sub when you close it and try to cut it in half!" one said. Another reiterated the point, saying, "I was a prep manager at a restaurant and we always modified the recipes ... it's not that deep y'all." It just goes to prove, at least in the case of Subway's tuna, that the customer isn't always right.