Why Doja Cat Fans Suspect A Taco Bell Collab Is Coming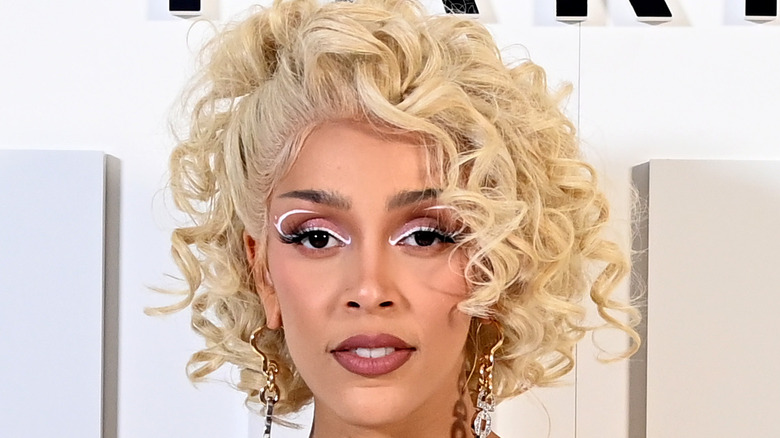 Pascal Le Segretain/Getty Images
Popular Doja Cat has made her feelings for Taco Bell abundantly clear in the past. In fact, she has tweeted fiercely about her love for the chain's discontinued item: the Mexican Pizza. Others have taken note of this and can't help but share their own feelings on Taco Bell.
Redditors wrote about the menu items that they'd love to see make a comeback at the restaurant. Popular options included the Volcano Sauce, Chili Cheese Burritos, and more. Enthusiastic Reddit users even said that they support Doja Cat through and through. "Please bring back the Mexican Pizza!! Even if you have to call it the Doja Cat Meal plz," a commentator wrote. Another fan on Reddit said that they have even more love and respect for the singer thanks to her support for the Mexican Pizza.
Many people are now speculating about a potential collaboration between Doja Cat and the fast-food chain. 
They have high hopes
Per a Twitter user, Taco Bell might be teaming up with Doja Cat, after all. The big hint? One of the latest commercials from Taco Bell features a popular track from the singer, "Get Into It." It promotes the new Double Steak Grilled Cheese Burrito. Fans are pumped for an entirely different reason, though.
"Doja Cat cashing in those Taco Bell checks!! Just saw the commercial for Get Into It. Do you think the Doja Meal is coming soon?" someone wrote about the theory.
One commentator tweeted that it feels like the Mexican Pizza is finally ready to make its return to Taco Bell. Another Twitter user wrote enthusiastically, "WE GETTIN A DOJAxTACOBELL COLLAB YUHHHH. hopefully they heard her about the Mexican Pizza." Someone else tweeted that getting the menu item back feels "appropriate." While there has been no official confirmation so far, fans are keeping their fingers crossed.