Rachael Ray's Husband John Can't Get Enough Of This Thanksgiving Dessert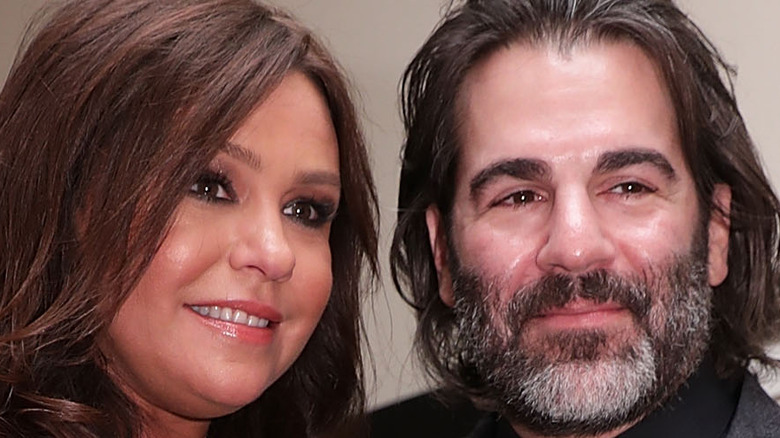 Alex Wong/Getty Images
Thanksgiving Day dinner is one of the biggest feasts we make all year. Roasted turkey carved to perfection, mounds of mashed potatoes covered in a pool of gravy, stuffing, cranberry sauce, green bean casserole, and candied yams are just a few of the dishes that grace our tables as we gather with family and friends to give thanks. But no turkey day dinner is complete without dessert, that is, if you remember to leave room for dessert. We know, it can be difficult when there are so many delicious options. But in our utopia, there is always room for this part of the meal, and who better to turn to for dessert for this uniquely American holiday than Rachael Ray?
Ray is all about flavor and ease, and for a holiday like Thanksgiving, it's a philosophy we deeply respect. But it's Ray's desserts that have us talking, and specifically, the one her husband John can't get enough of. Surprisingly, if you are thinking traditional desserts, you are on the right path. Ray's husband likes pie. In fact, according to Bake, pie is probably the most popular food we eat on turkey day. The site shared that 94% of Americans eat pie when they gather for this holiday, and 18% are all about the pie Rachael Ray's husband, John, likes. 
Pecan pie with a double shot of bourbon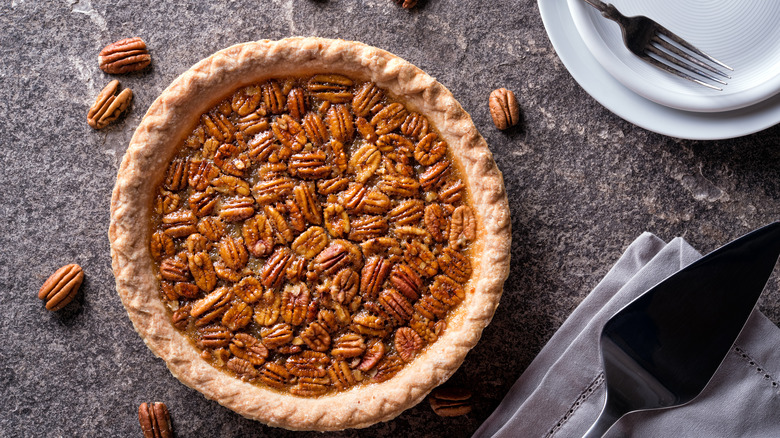 Foodio/Shutterstock
Rachael Ray shared on her website that John can't get enough of her pecan pie. But not just any pecan pie, it's Ray's Double Shot of Bourbon Pecan Pie that has him coming back for seconds. "This one is my husband's favorite. And you can see why: the brown sugar, bourbon and butter give this pie the most amazing flavor. And you won't believe how easy it is to make — you just need one bowl and something to stir with! My kind of recipe!" Ray said of the recipe.
The pie uses just 2 tablespoons of bourbon, "plus more for drinking," and per The New York Times, gives a richer vanilla flavor to all that pecan caramel goodness. It sounds delicious, and as we said, it is the ease of the pie that will have the weary cook smiling — just one bowl. Of course, there is also pumpkin pie, which tops the list of pies we like to eat, with 31% of survey responders giving it their seal of approval, according to Bake.