Zaxby's New Ghostbusters Soda Features These Fruity Flavors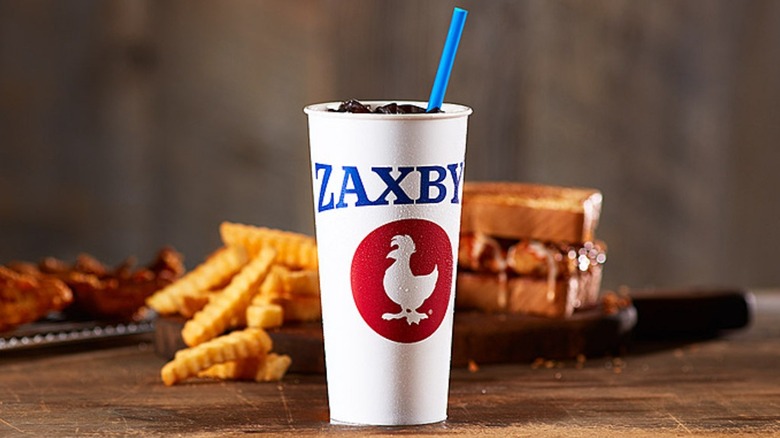 Zaxby's
If you love fast-food fried chicken, and you're from the southeastern U.S., chances are you're a fan of Zaxby's. If that's the case, then we've got exciting news for you, because the chain is celebrating the release of "Ghostbusters: Afterlife," which comes out on November 19, with a new soda flavor (via PR Newswire).
Zaxby's is a quick-service chicken restaurant that specializes in menu items like spicy crispy chicken sandwiches, spicy fried mushrooms, and zesty dipping sauces. The sorts of spicy, fried, salty foods that make a person thirsty. Currently, Zaxby's offers a selection of Coca-Cola beverages (they have a Freestyle machine, which offers up to 100 different soda flavors), sweet and unsweetened iced tea, apple juice, milk, and chocolate milk. But the new beverage, which is launching at the same time as the "Ghostbusters" tie-in Great 8 Boneless Wings Meal, is a combination of flavors that guests probably haven't tried before.
It features grape and cherry
The new Zaxby's drink is the Cherry-Grape Blaster. It has a Sprite base with cherry and grape flavors added. The drink is exclusive to Coca-Cola Freestyle machines and Zaxby's. You can order a "lite" version, too, if you want to cut back on sugar. According to one fan on Instagram, it's "awesome stuff," while another Instagram user wrote that "it was delicious."
The "blaster" part of the name refers to the proton blasters used by the Ghostbusters to battle their spooky foes (via Fandom). Customers will be blasted with flavor rather than protons and have until December 26 to try the "Ghostbusters: Afterlife"-themed Cherry-Grape Blaster drink and Great 8 Boneless Wings Meal. Most theaters probably don't want you bringing your own drinks to the theater, but the Cherry-Grape blaster sounds like the perfect beverage to sip while feasting on movie theater popcorn and watching the new "Ghostbusters" movie.