The Horrific Horse Riding Accident Guy Fieri Experienced As A Kid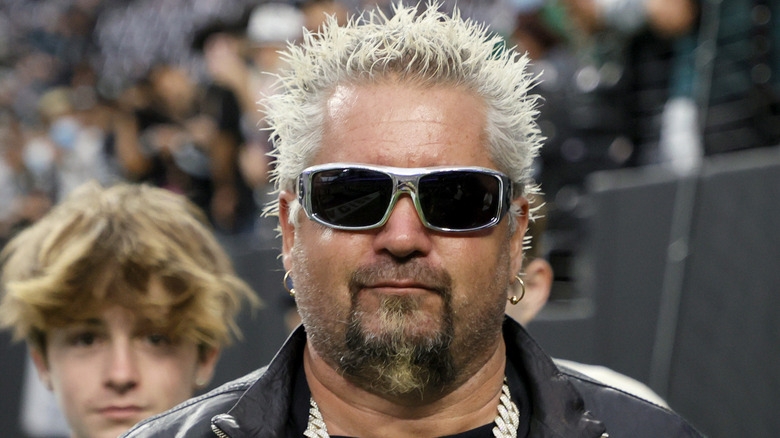 Ethan Miller/Getty Images
Guy Fieri, a chef and TV personality, may be most famous for his popular TV show on the Food Network, "Diners, Drive-ins and Dives," where he drives a hot rod and visits diner-style restaurants all around the country. He chats up the owners and the kitchen staff while sampling the standout dishes. Before appearing on "Diners, Drive-ins and Dives," he launched his own TV show in 2006 called "Guy's Big Bite," per IMDb.
It's easy to focus on the glamour of the rich and famous and assume that they lead carefree lives. However, many people don't know the trials and tribulations that a person has gone through before they've reached the spotlight. In Guy Fieri's case, he had a traumatic experience when he was a kid that left an indelible mark on him. In fact, he still has a "huge scar running up from his belly button" to remind him of the experience, according to GQ. 
What left that physical mark on his body? The simple answer is riding a horse. Horses may seem like gentle animals, but if something goes amiss or the horse gets scared, everything can change in a single moment.
Here's why riding a horse was so traumatic for Fieri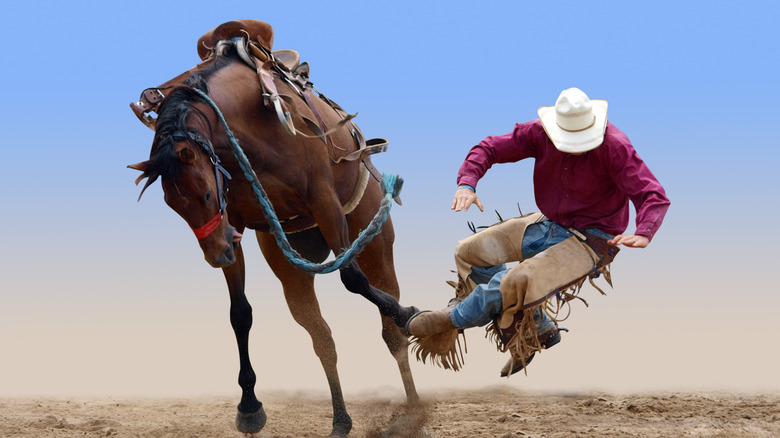 Margo Harrison/Shutterstock
When Fieri was 10 years old, the horse he was riding bucked him off. If that wasn't enough of a shock, the horse proceeded to stomp on him, according to GQ.
Naturally, the horse stomping on him caused some internal damage. "The crushing impact tore a ligament off of his liver and bruised his heart". His parents weren't even by his side for this scary experience because they were traveling in Europe at the time. It's thanks to a lawyer, who signed court documents, that he could be rushed to the emergency room and receive the required surgery, per GQ. Guy Fieri explained how he felt regarding the situation, "I was f***ed up." Although he doesn't elaborate, that appears to sum up what happened to him. As for his parents' reaction, he stated, "My mom was devastated." It's clear that this experience impacted him. Sometimes people wear their heart on their sleeve — others literally have scars from important experiences in their lives.
Luckily, Fieri has found better luck with smaller companion animals. We loved his birthday tribute to his dog, Smokey!