Twitter Is Loving Guy Fieri's Funny Birthday Tribute To His Dog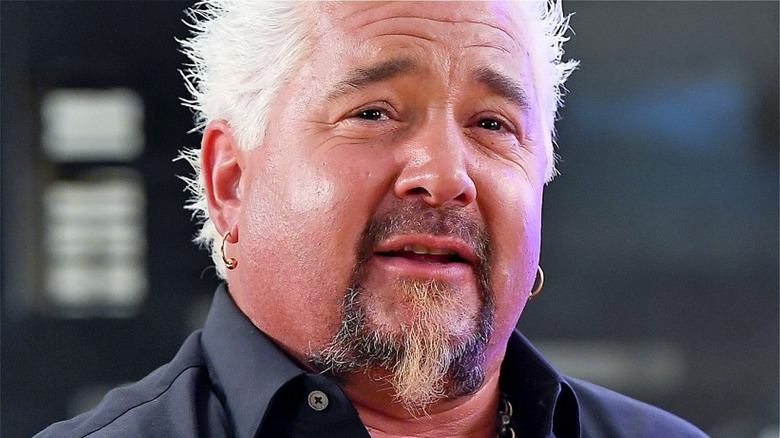 Steve Jennings/Getty Images
No matter how many fans you might have internationally, any dog owner will agree that there's nothing quite like the love from your furry friend. Guy Fieri has millions of followers across social media platforms who have encouraged him in his wide range of endeavors, be it on his television series or at one of his restaurants. While Fieri certainly appreciates the recognition he receives from his fans, his dog Smokey is in a separate league.
Fieri announced the pup's birthday in a Twitter post, and his fan community loved it. In the post, Fieri refers to his tiny chihuahua as his right-hand man in the kitchen, and the thought is certainly enough to evoke some laughs. He shares a few pictures showing Smokey in action on a boat and herding a goat. Many people can surely relate to his comment that Smokey "thinks he's 125 lbs," a common identity crisis among petite dogs.
Are his fans dog lovers?
His fans were eager to send plenty of love to the famous chihuahua, and many took the opportunity to share pictures of their own animals (via Twitter). A few seemed to have experience with chihuahuas, as evidenced by @TygrHawk's comment, "Chihuahuas. Smol dog, big attitude." Meanwhile, other fans such as @LuluBelletweets were curious to know what he did to celebrate, imagining that it would be related to his skill set, "I hope you make him some homemade doggie treats today!"
Guy Fieri is regularly included in lists of celebrity chefs who love dogs, along with Ree Drummond and Giada De Laurentiis (via Woof Republic). However, his fondness for animals doesn't stop there, as Fieri is also known for his quirky pets. Goats, peacocks, and a tortoise are among the company that Fieri keeps at home. It sure sounds like a full house, but anyone who keeps track of Fieri's long list of projects knows that he thrives on activity.