Instagram Is Swooning Over Bobby Flay's Thanksgiving Squash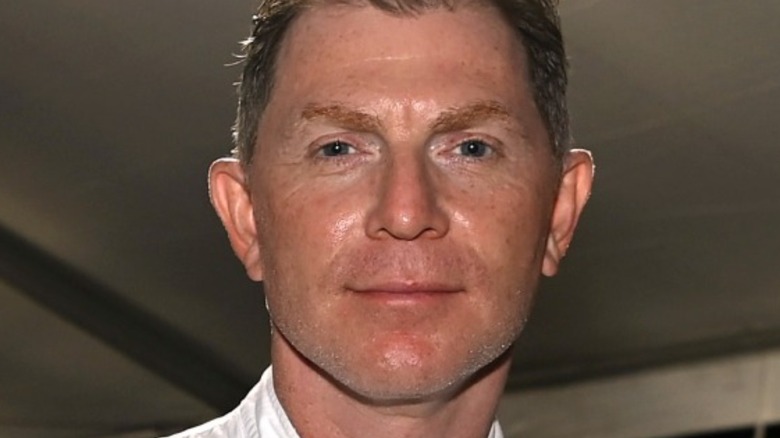 Denise Truscello/Getty Images
What do you know about celebrity chef Bobby Flay? Perhaps most recognized for his many years of hosting cooking shows on the Food Network — a 25-year relationship that will draw to a close at the end of this year — the chef and cookbook author also has decades of restaurant experience under his belt, launching his solo career with the opening of his flagship restaurant Mesa Grill in 1991 (via the Food Network). If you know Bobby Flay, you know how much importance he places on southwestern ingredients — including chili peppers — a flavor profile he first learned under the tutelage of '80s super chef Jonathan Waxman.
But Flay also utilizes a wide range of traditional flavors in his cooking, including the homey tastes of such Thanksgiving dishes as cheesy mashed potatoes and butter-roasted whole turkey. Recently, the chef shared a delicious-looking delicata squash dish on his Instagram feed that sounds perfect for the holiday table, and his fans are more than a little excited about it.
Spice roasted squash with arugula and goat cheese
Are you still scrambling for a last-minute Thanksgiving side dish? Do you love squash? Then look no further than celebrity chef Bobby Flay's spice roasted delicata squash with goat cheese and apple cider vinaigrette. Flay recently posted a pretty photo of the dish, which also features peppery arugula and bitter radicchio, on Instagram, and commenters seemed pretty psyched about it.
"Looks amazing!! A beautiful presentation," wrote @leslieab77. "Enchanted by this dish!" added @daros_mariza. "A must try. Thanks!" commented @foreverjerseygirl007.
On his website, Flay lays out how to make the dish. Part of the process includes roasting thin, skin-on slices of squash in a cinnamon-and-ginger spice mix, tossing the greens in apple-accented vinaigrette, laying the squash slices on top, and finishing the dish with crumbled goat cheese and the reserved, roasted squash seeds. As lovely as this dish looks in the photo, it tastes even better in our heads.