Does White Castle Really Have An OnlyFans Account?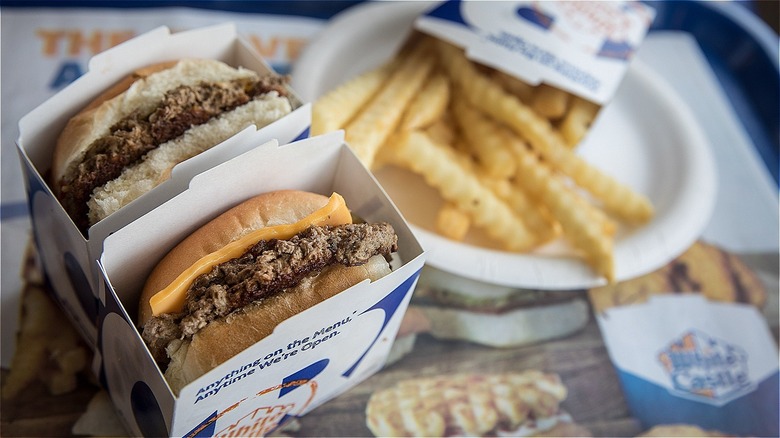 White Drew Angerer/Getty
If you've ever found yourself mixing cubes of dried bread, veggies, and stock for your Thanksgiving stuffing and wondered how the recipe could be sexier, White Castle has you covered — the famous slider joint is making your holiday hot and spicy with two slider stuffing recipes.
White Castle burger fans, known as Cravers, have been enjoying its original slider stuffing recipe since its release in 1991. It was created by a White Castle employee who added a bag of sliders to his grandmother's stuffing recipe 30 years ago and made a new holiday favorite for Cravers and stoners everywhere. Now, White Castle has teamed up with firefighter and chef Manny Washington Jr. to show folks how to turn the beloved bacon jalapeño cheese slider into a spicy Thanksgiving stuffing. According to White Castle, the stuffing features jalapeño peppers, bacon, cumin, cilantro, and shredded pepperjack cheese, which come together to create a distinct fiery flavor.
Vice president of White Castle Jamie Richardson, said in a statement, "The holiday season is about to get a whole lot hotter because these recipes really pack the heat." And the ingredients aren't the only thing making fans hot around the collar — White Castle has announced an even spicier stuffing recipe, available exclusively on OnlyFans.
White Castle revealed its stuffing recipe on OnlyFans
OnlyFans is a content subscription service with more than 187 million users, according to Statista. So it only makes sense that White Castle would want to tap that market.
Cravers can satisfy their spicy side by logging on to OnlyFans to see White Castle reveal its southwest jalapeño cheese slider stuffing recipe. This recipe takes the classic holiday dish to the next level by adding extra jalapeños and poblano peppers to the traditional slider stuffing. White Castle suggests that users can add peppers to suit their pleasure and make the dish as hot as they can handle.
Slider fans can purchase Original and Jalapeño Cheese Sliders at White Castle locations and in their grocer's freezers. But the White Castle's Southwest Jalapeño Cheese Slider Stuffing recipe can only be found on OnlyFans, making this one of the few times that if you can't handle the heat, you get back in the kitchen.