Buddy Valastro Just Surprised Anne Burrell With This 'Dreamy' Cake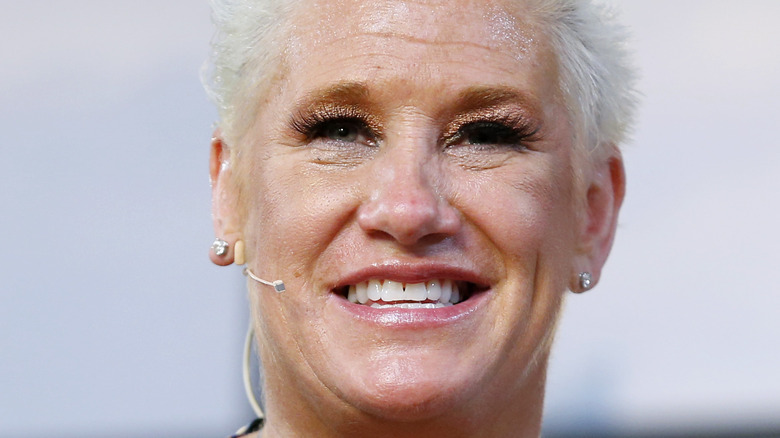 John Lamparski/Getty Images
In what could be viewed as a move to promote his Sweet Potato Dream Cake, Buddy Valastro has gifted one to Anne Burrell. Yesterday, Burrell shared an image of a gift basket's worth of desserts with the cake center-stage on Instagram. "WOW!! What an amazing surprise box of deliciousness from @carlosbakery!!" she wrote. "A "Sweet Potato Dream Cake" certainly IS dreamy!! Thank you @buddyvalastro!!"
The post has garnered around 2,500 likes. Some commenters were clearly eager to taste Burrell's sweet dream. A user observed, "That cake even looks like a dream!"  A second cake admirer opined, "Lucky you! Looks amazingly delicious!" And a third wrote that they were "really jealous!" But A good chunk of people seemed distracted by the presence of a different dessert. "Rainbow cookies," one drooled. "I love rainbow cookies," another supplied. "I'll be over in 15 min," wrote the reporter Lauren Scala. "Save some rainbows."
Still, most managed to focus on the point of the post: the cake. All the simple exclamations of "Nice," "Yum," and "Jealous" bolster the fact that the newest product offered by Carlo's Bakery captures the decadence of Thanksgiving.
Sweet potato times 3
For those who missed the announcement, Buddy Valastro has tried to piggyback on the upcoming Thanksgiving holiday by releasing a Thanksgiving-themed dessert. On November 8, he shared the Sweet Potato Dream Cake on Twitter, explaining that the cake consists of three layers of sweet potato dishes: sweet potato casserole, sweet potato cake, and sweet potato pie. The cake is available nationwide, but can only be delivered through orders made on DoorDash or Caviar. Until the end of Wednesday, you can still get this tripled Thanksgiving dessert for 25% off. The first two orders worth $30 and below can enjoy this discount with the promo code SHIPPING.
The sumptuousness goes even further though. In addition to the layers of sweet potato recipes, DoorDash explains, the cake is also topped with toasted marshmallows and pecan oat crumble. If you're still panicking about how to round out your feast, this cake could make a worthwhile inclusion. And thanks to a surprise delivery, Anne Burrell gets to find out firsthand.