Buddy Valastro's New Thanksgiving Dessert Will Have Sweet Potato Lovers Drooling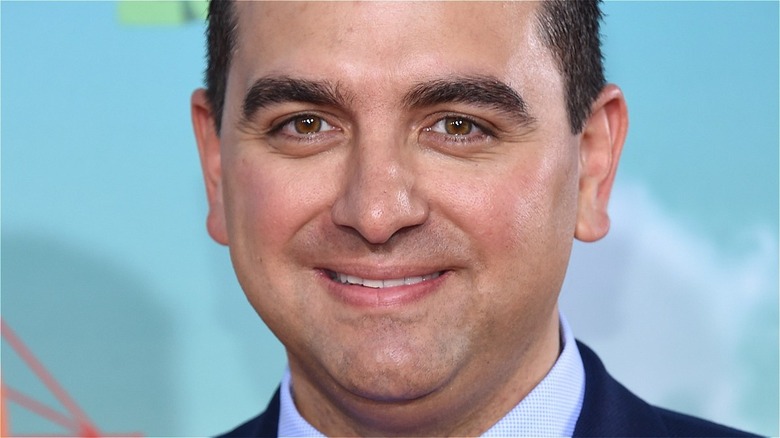 Thanksgiving food isn't just about the turkey — this holiday also comes with plenty of delicious side dishes. We've rounded up some of the best side dishes for Thanksgiving, and it's no surprise that sweet potatoes make the list quite a few times. They can be used to make all sorts of scrumptious foods like grilled sweet potato wedges or crispy sweet potato fritters.
You can also make sweet potatoes even sweeter with some brown sugar, or top off your sweet potato casserole with a mountain of marshmallows. If you like them extra sweet, then you need to check out this announcement from Buddy Valastro. He recently tweeted a video that introduces the Sweet Potato Pie Dream Cake, and it puts three sweet potato dishes into one dessert.
You can order the Sweet Potato Pie Dream Cake on DoorDash. Another tweet by Valastro mentions that you can use the code "SHIPPING" to get 25% off your first two orders. This code can be applied code to up to $30 of an order, and it is valid through November 24.
What's in Buddy Valastro's sweet potato dessert?
This isn't any ordinary dessert, but could we really expect a regular old cake from the star of "Cake Boss?" In a tweet about the Sweet Potato Pie Dream Cake, Valastro included a photo with text describing exactly what makes up this dessert. There are three layers, each of which offers a different kind of sweet potato delight.
The top is his wife Lisa's sweet potato casserole. The middle layer is made up of sweet potato cake, and the base layer is sweet potato pie made by Carlo's Bakery. What holds the cake together? In the video Valastro tweeted to debut the cake, he says that the frosting is a Swiss meringue brown sugar cream cheese buttercream. If you're a sweet potato lover who is craving this dessert, make sure to order with enough time for it to come for Thanksgiving!