Simple Kitchari Recipe
Kristen Carli/Mashed
If you're not familiar with kitchari, it's because it's not the sort of dish you're likely to find on too many restaurant menus, nor does it tend to feature on any of those cooking challenge shows. Kitchari is a simple dish -– the word itself is something that the Blum Center for Health translates to mean "mess," but Healthline says could also mean the more appetizing "mixture."
And a mixture is exactly what kitchari is. Typically it is a combination of a grain with a legume, served in the form of a soup. Recipe developer Kristen Carli explains that "Kitchari is a traditional Ayurvedic meal," and goes on to say, for those unfamiliar with this practice, "Ayurveda is a holistic traditional healing method that comes from India." Kitchari is typically eaten as part of a cleanse. It provides the energy you need to get by as your digestive system resets itself and eliminates the toxins in your body. Kitchari is usually made with rice and either mung beans or lentils, but Carli prefers to make hers with yellow split peas. (These are similar to mung beans, but the two legumes are not identical.) She describes the resulting dish as a "porridge very similar to lentil dal."
The ingredients for kitchari aren't very complicated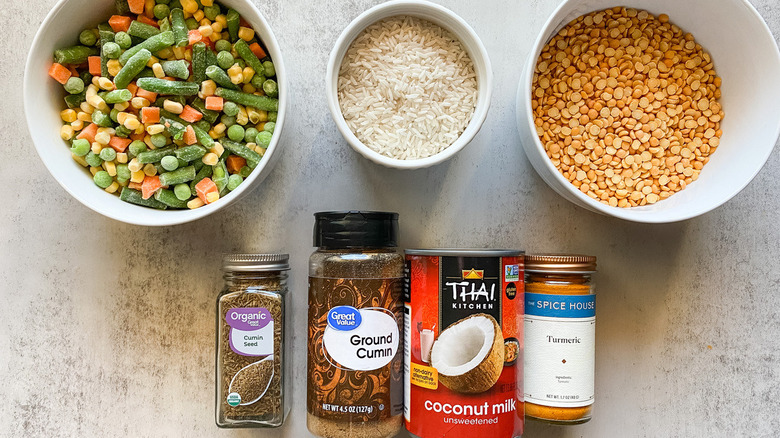 Kristen Carli/Mashed
While kitchari may sound like an exotic dish, there isn't anything called for in this recipe that can't be obtained in a standard supermarket. You'll need olive oil for cooking and some coconut milk to add flavor and help thicken the dish. For spices you'll be using cumin seeds, ground cumin, and turmeric, and the kitchari itself consists of basmati rice and yellow split peas.
Carli also adds some frozen mixed vegetables to the dish. "My frozen veggie mix included green beans, peas, corn, and carrots," she tells us but says, "You can use any veggies you like. Broccoli and cauliflower would also be amazing in this dish."
Begin by toasting the cumin seeds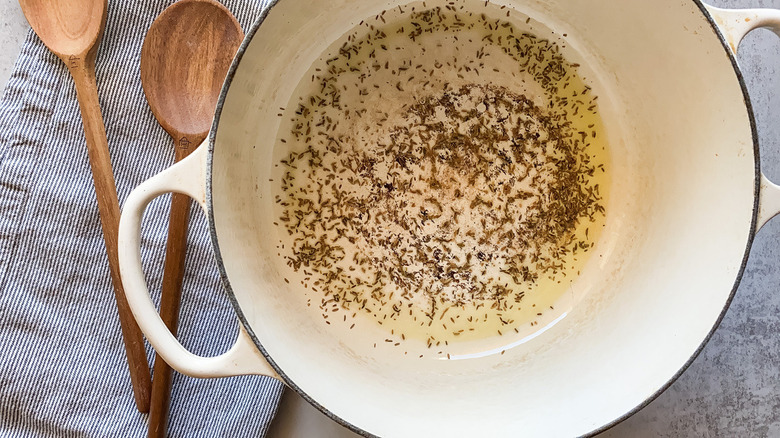 Kristen Carli/Mashed
This is a one-pot dish, so start off by using a heavy saucepan or skillet that is large enough to hold all of the ingredients. Heat the olive oil over medium heat, and once the oil is hot add the cumin seeds (but not the ground cumin). Toast these seeds for about 1 minute, at which point they should begin to release their fragrance.
Fun fact about cumin: It is known for helping to promote good digestion. This means that it could help to reduce any gas or other unwanted side effects from the split peas.
Add the rest of the ingredients and cook the kitchari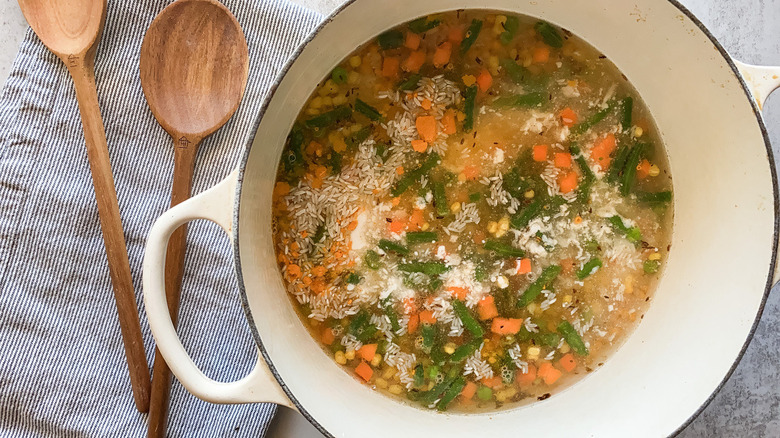 Kristen Carli/Mashed
Once the cumin seeds are nice and toasted, you're going to add the rest of the ingredients to the pot. Stir in the rice, split peas, frozen veggies, coconut milk, turmeric, and yes, the ground cumin goes in now too. You'll also need to add ½ teaspoon of pepper, 1 teaspoon of salt, and 4 cups of water to the mix. Bring everything to a boil, then reduce the heat to a simmer. Cook the kitchari for about 30 minutes until the rice and peas are tender.
The kitchari makes for a filling meal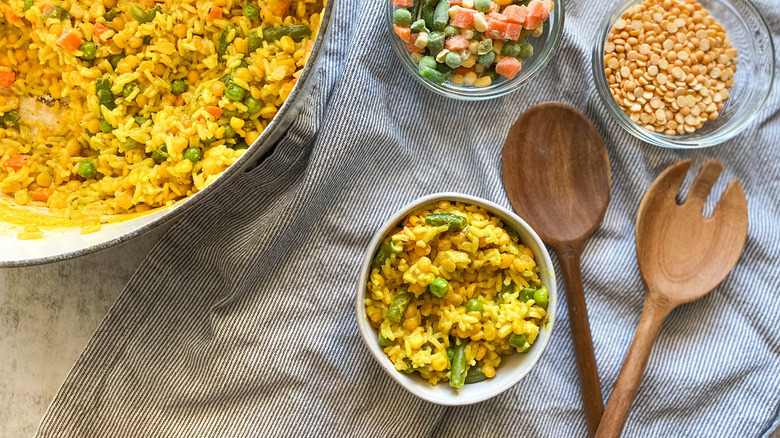 Kristen Carli/Mashed
If you are doing the kitchari cleanse, then you may be eating this meal twice a day for about a week. If you're not cleansing though, you can just enjoy it as a vegan main dish. Carli calls this kitchari "flavorful and hearty" and says she enjoys it as is but adds, "If you want, you can serve this with grilled chicken over top."
The kitchari made with this recipe is very mild but Carli says, "If you can handle a little heat, I would add some cayenne pepper during cooking or sriracha as a topping once served."
Simple Kitchari Recipe
This wholesome kitchari recipe is a regular in Ayurvedic cuisine. It's filling, nourishing, and perfect to warm you up in the cooler months.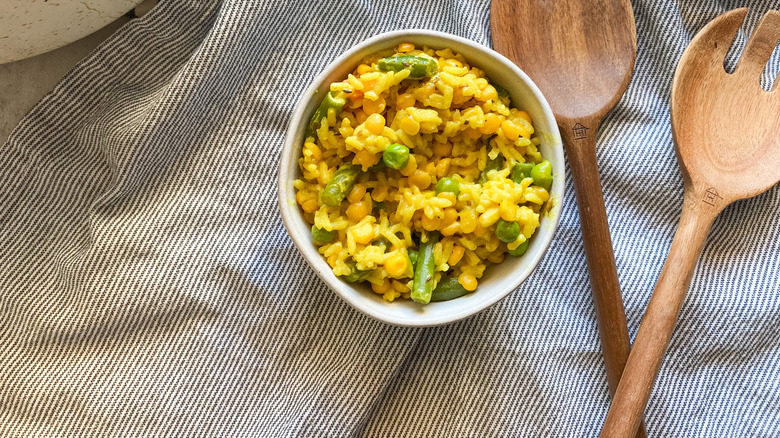 Ingredients
1 tablespoon olive oil
2 teaspoons cumin seeds
½ cup white basmati rice
¾ cup yellow split peas (mung beans/moong dal)
1 cup frozen mixed vegetables
½ cup unsweetened coconut milk
½ teaspoon ground cumin
1 teaspoon ground turmeric
1 teaspoon salt
½ teaspoon pepper
4 cups water
Directions
Heat the olive oil in a large pot, over medium heat.
Add cumin seeds to the oil and toast them until they are fragrant, or about 1 minute.
Stir the rice, peas, vegetables, coconut milk, ground cumin, and turmeric into the toasted cumin seeds along with 1 teaspoon salt, ½ teaspoon pepper, and 4 cups water.
Bring the kitchari to a boil.
Lower the heat and let the mixture simmer for 30 minutes.
Nutrition
| | |
| --- | --- |
| Calories per Serving | 216 |
| Total Fat | 7.0 g |
| Saturated Fat | 4.0 g |
| Trans Fat | 0.0 g |
| Cholesterol | 0.0 mg |
| | |
| --- | --- |
| Total Carbohydrates | 31.5 g |
| Dietary Fiber | 7.4 g |
| Total Sugars | 2.0 g |
| Sodium | 409.6 mg |
| Protein | 8.1 g |