Instagram Is Loving This MasterChef Judge Reunion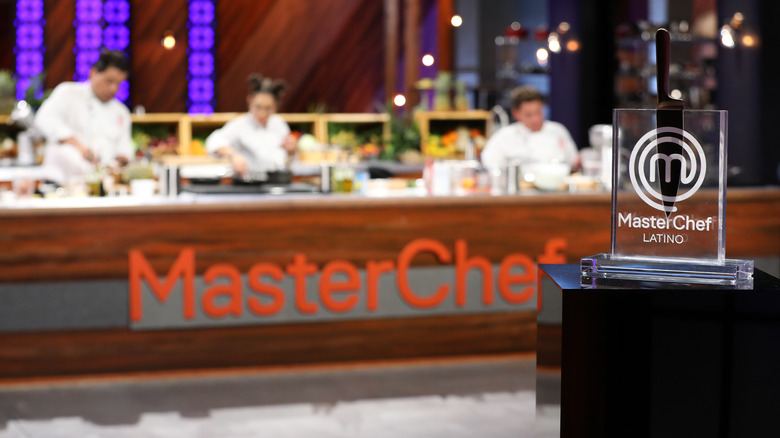 Alexander Tamargo/Getty Images
"MasterChef" has been a fixture in the wide world of food competition shows since it was first featured on Fox in 2010. The show brings together the best home cooks in the U.S., along with a few of the best celebrity chefs to serve as judges. Fifty contestants battle it out with their knives, spatulas, and culinary know-how in hopes of being crowned the MasterChef, per IMDb. The show is so popular, there's even a spinoff called "MasterChef Junior" that's equally fun to watch, albeit a little bit more kid-friendly.
The original "MasterChef" judges include Gordon Ramsay, who holds the record of being the longest-serving judge for all 11 seasons of the series; Graham Elliot, who was on the first six seasons; Joe Bastianich, who was on all season, except Seasons 6 through 8; Christina Tosi, who picked up the baton from Bastianich while he was out; and, finally, Aarón Sánchez, who has graced the show through Seasons 7 to 11 (via Reality TV Revisited). If you're a fan of the show, hold on to your apron — because there appears to be a "MasterChef" judge reunion in the works, informal or otherwise. Sánchez and Elliot took to Instagram to tease viewers about the group's reuniting, and their followers are loving it.
All five celebrity chef judges together again
Aarón Sánchez shared via Instagram a picture of all five judges together, drinking what appears to be champagne, and captioned the photo, "Nothing but fun with the @masterchefonfox familia!" Graham Elliot shared the same picture on his social media and wrote, "The Gang's All Here" ~ fun times with @gordongram @christinatosi @chefaaronsanchez @jbastianich #BTS #BehindTheScenes #MasterChef #Fox #MasterChefOnFox #Reunion #GettingTheBandBackTogether." Together, the posts have received nearly 30,000 likes, as well as a lot of excited chatter from their adoring fans and followers. And how could they not? The five judges look genuinely happy to be together.
One of Sánchez's followers wrote, "Five Amazing Judges!!! I Can't Wait For The New Season Of Masterchef!!!" Another asked the burning question, "Did this mean Graham & Christina are back??" After all, inquiring minds do want to know. A less inquisitive commenter joked, "Joe not in a suit?! Never thought I'd see the day." As avid "MasterChef" viewers ourselves, we are happy to see what is perhaps a sneak peek at "MasterChef" Season 12.