How Todd And Julie Chrisley Keep The Stress Out Of Holiday Dinners - Exclusive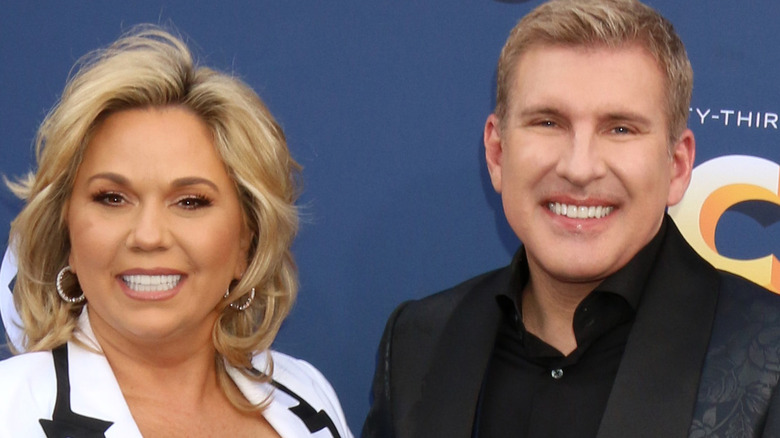 Kathy Hutchins/Shutterstock
The holidays are supposed to be a time of cheer that involves relaxing, celebrating, and enjoying time with friends and family, but let's be honest — for many of us, that time from Thanksgiving through the start of the New Year causes a lot of stress. And if you feel that way, don't worry, it's not just you. In fact, science has your back — according to the reputable Mayo Clinic: "The holiday season often brings unwelcome guests: stress and depression. And it's no wonder. The holidays often present a dizzying array of demands — cooking meals, shopping, baking, cleaning, and entertaining, to name just a few."
So, just imagine how those added demands put pressure on a household like that of Todd and Julie Chrisley. If you have ever seen their hit reality TV show, "Chrisley Knows Best," then you know things can already be, well, intense. So, how do the Chrisleys manage the added stresses of the holiday season, with the kids, the cooking, the gifts, and the cameras to boot? They discussed how they handle it all during a recent exclusive interview with Mashed.
"You give every person a job," said Julie Chrisley, adding, "And I think you give them a job that they're capable of doing. Now for Chloe, our nine-year-old, that means putting the ice in all the glasses. So she's responsible for counting how many people we have, and for–"
"And putting the napkins out!" Todd interjected.
"And putting the napkins out," Julie agreed. "Grayson is my trash taker outer."
"That, we fight over," added Todd, to which Julie said, "That's his job." She added their daughter Savannah is a huge help because she's a really good cook. "So Savannah will cook some. She'll make a dessert," said Julie. "And also, she helps me with prep because she knows how things are supposed to look because she's always been in the kitchen with me."
For the Chrisley family, scheduling is key for preparing holiday dinners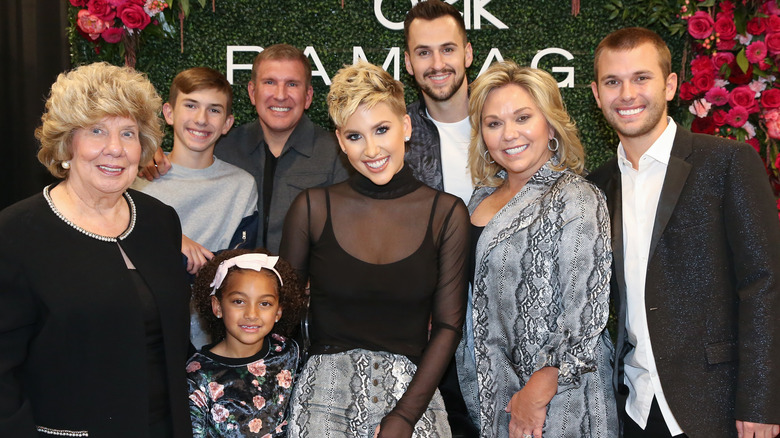 Terry Wyatt/Getty Images
Cooking a massive, multi-dish Thanksgiving Day or winter holiday feast is no easy feat. There are multiple foods to bake (some of which may require hours — like, turkey and ham), and there are soups and stews to simmer, veggies to chop, sauces to stir, stuffings to stuff, and on it goes. How is a family to manage it all, getting a great meal on the table on time and with minimal mishap?
The same way an army readies itself for battle, according to Todd Chrisley: It's all about the planning. "I'm a schedule person, I like for things to run on time. And Julie is always, always... always [late]! ... The only time she will be on time is for her funeral," he said, jokingly.
"But now let's keep in mind, Julie's doing 99% of the cooking," she replied.
"Yes, and you have been for 26 years," comforted Todd, adding, "So you should be able to know how to be on time."
As Julie concluded, with a sigh, "Well, it's easy for someone to schedule when they're not doing the cooking. ... So I think the key for me is just to plan ahead, to buy early, especially this season. I've already begun to buy things. I have it in a particular place where I know where it is, and I'm going to actually do some prepping early for things that can be done early."
Check out "Chrisley Knows Best" and "Chrisley Knows Thanksgiving" streaming on Peacock and on USA.