Mouths Are Watering Over Trader Joe's Ice Cream Sandwiches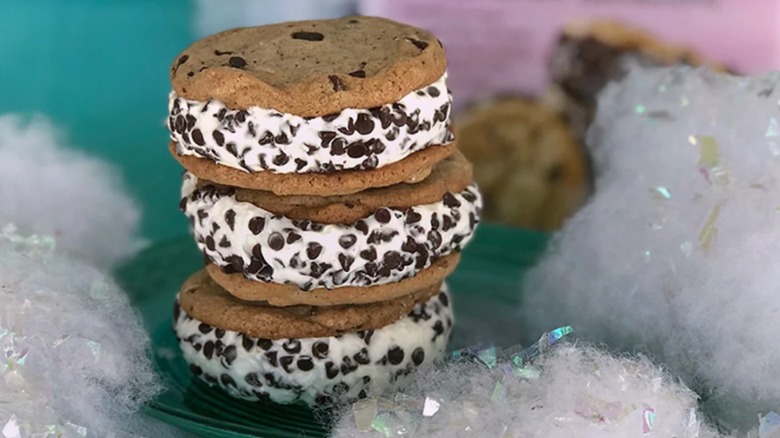 Trader Joe's
While fancy desserts definitely have their place, sometimes all you need to satisfy your sweet tooth is just a classic, old-fashioned sweet standby. Luckily, Trader Joe's Sublime ice cream sandwiches deliver the best of both worlds, with all the traditional flavor of creamy ice cream and sweet chocolate chip cookies, but with a few extra special touches to give these treats a hint of decadence that sets them apart from your standard ice cream dessert.
Each Sublime ice cream sandwich is made with rich vanilla ice cream, packed between expertly-baked chocolate chip cookies, which are soft and chewy while still maintaining the ideal amount of crunch to make them sturdy enough to hold the sandwich together. These frozen treats deliver the perfect balance of ice cream to cookie ratio, topped off with a coating of indulgent mini semi-sweet chocolate chips for the finishing touch. Now, all of that goodness can be yours for $4.79 for a box of four sandwiches at your local Trader Joe's.
Trader Joe's fans raved about these ice cream sandwiches online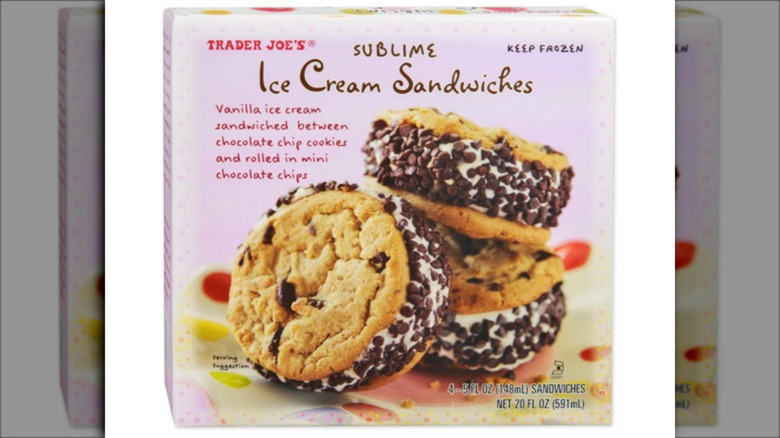 Trader Joe's
Although that price may seem a little steep, especially when compared to some of Trader Joe's other desserts, quite a few ice cream sandwich fans said these delectable treats were worth the extra coin. The Instagram user @mrs_traderjoes even gave this frozen dessert a 10/10 rating, telling their followers in an Instagram post "Well, I've been missing out on life itself. Everyone talks about how amazing these ice cream sandwiches are, and I'm here to confirm it. These are superb...I'd definitely get these again as a treat treat!"
Their followers were quick to agree that these Sublime ice cream sandwiches make the perfect indulgent treat, calling them "so good" and "simply the best." "These get like an 11 in my book," one Instagram user remarked, while another raved "These are the BEST!!!!!!!!!!!!!!!!!!!! I buy a box and they are gone within hours." "Ugh these are SO good. I have to limit how often I buy them," @untilwefeltred agreed. So if you've been looking for something extra special to treat yourself or your loved ones with this holiday season, these sweet and creamy Sublime ice cream sandwiches just might be the item you have been looking for.