Ree Drummond Met This Very Familiar Couple At Her Book Signing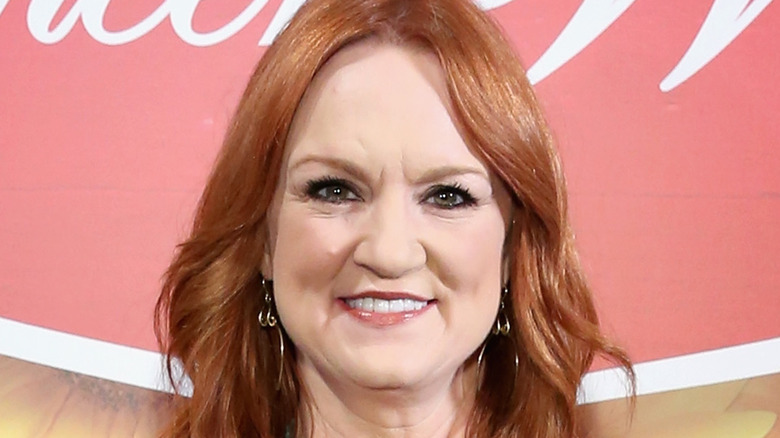 Monica Schipper/Getty Images
Cookbook author, television personality, and entrepreneur Ree Drummond, aka The Pioneer Woman, has created quite an empire over the years. She has given fans everything from an endless stream of recipes to try in both her blog and cookbooks, to cute dishware to make the recipes in or to decorate their own kitchens.
Whenever she launches a new item or cookbook, she often has various promotional efforts to help publicize it, which is certainly the case with her latest cookbook, "The Pioneer Woman Cooks: Super Easy! — 120 Shortcut Recipes for Dinners, Desserts, and More" (via The Pioneer Woman). She has been sharing bits and pieces from her tour, including a sweet Instagram post from a few days ago raving about husband Ladd Drummond, who drove her to a signing she had in Dallas and helped tend to her snack needs along the way.
Though she likely had quite a few spots across the country that she stopped by to promote her latest culinary release, Drummond did make sure to book one at The Pioneer Woman Mercantile in her home base of Pawhuska, Oklahoma. After all, the location is such a big part of her show and overall brand, you certainly couldn't skip a signing there! And, it seems that word traveled fast, and the last two individuals in the line at the cookbook signing were very familiar faces.
Family in line in Pawhuska
Ree Drummond shared a sweet photo of herself posing with the two individuals who were last in line at her Pawhuska signing with her 3.9 million Instagram followers. Posing in front of a vibrant yellow wall styled with books and other merchandise, Drummond looked effortlessly chic in some dark-wash jeans, a colorful top, and knee-high brown leather boots, while the individuals flanking her stayed casual in sneakers, athletic pants, and sweatshirts.
Many fans of The Pioneer Woman just might recognize who the two individuals were, from their previous appearances on Drummond's Instagram feed or even on her cooking show — her daughter, Alex Scott, and Alex's husband, Mauricio Scott. Drummond paired the family photo with a caption in which she cheekily mentioned that the newlyweds were "such a nice young couple" and that they established such a connection that they snagged an invite to the Drummond Thanksgiving dinner.
Many of Drummond's fans loved the silly post, and took to the comments section to share their thoughts. "You crack me up!!!" one fan wrote. Another appeared to be as much a fan of Alex and Mauricio as of Ree herself, commenting, "I LOVE THEM BOTH!!! & follow them on IG."
Drummond still has one more Oklahoma book signing on the schedule, according to The Pioneer Woman, so fans will just have to stay tuned to see whether any familiar faces pop up at that signing as well.