Twitter Can't Believe The 2 Ingredients In This Thanksgiving Pie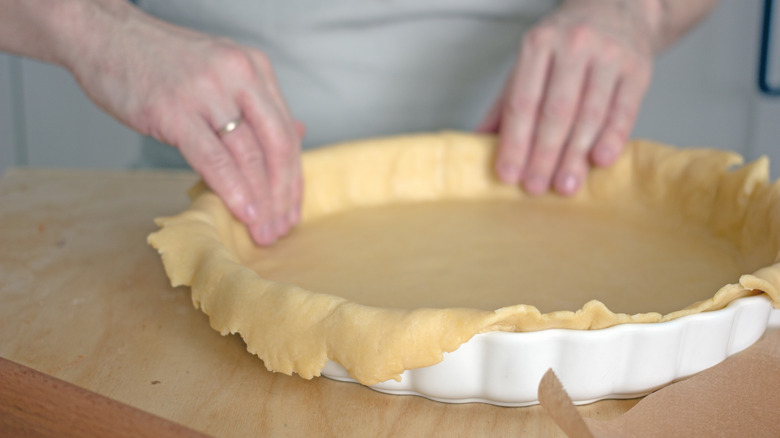 FotoFreshka/Shutterstock
For those of us with a sweet tooth, Thanksgiving dinner is less about, well, dinner, and more about dessert. While the holiday might be best known for the stuffed turkey, it truly wouldn't be Thanksgiving without a slice (or two or three) of pie. Maybe your feast ends with creamy pumpkin pie. Or maybe you're more about the gooey caramel apple pie. Or maybe you love digging into sticky sweet pecan pie. Regardless of your preferred variety, pumpkin reigns supreme on Thanksgiving, according to a YouGov survey which found that it's by far America's favorite option, with 35% of people dubbing it their top pick. 
While many Turkey Day tables contain these traditional pie flavors, some people like to switch it up with more unique varieties, like chocolate mousse or banana pudding. If you think those are out-of-the-ordinary for the holiday, however, you'll be shocked at the latest Thanksgiving pie to be revealed on Twitter. Arguably the most bizarre we've seen, and it's going viral as people can't get over the two ingredients it contains: cranberries and pickles.
People are freaking out over cranberry pickle pie
The now-viral cranberry pickle pie is exactly what it sounds like — a traditional cranberry pie topped with pickle slices. It's garnered a lot of attention on Twitter, as people have responded to what many think is a horrendous, disgusting combination — and an abomination that doesn't deserve a spot on the Thanksgiving dessert table. "Never heard of that before. Not sure that I want to again," one person commented, while another wrote, "Hell no would I eat this, it sounds horrible." Even celebrity chefs Alex Guarnaschelli and Duff Goldman have Tweeted their disapproval of the pie.
However, one fan of the recipe (and the alleged creator), Antoinette Errante, says it's surprisingly tasty (via Linda Seccaspina). Not only that but she has plans to make it again but with a few tweaks to improve it even further. "I think I will try a combo of sweet and sour pickles finely chopped with crystallized ginger; that will make a lovely caramelized crust," she said. The cranberry pickle concoction is apparently a take on Utah's pickle pie, which is rumored to taste like chess pie (via MyRecipes).