Long John Silver's Mac & Cheese Is Back With A Crunchy Twist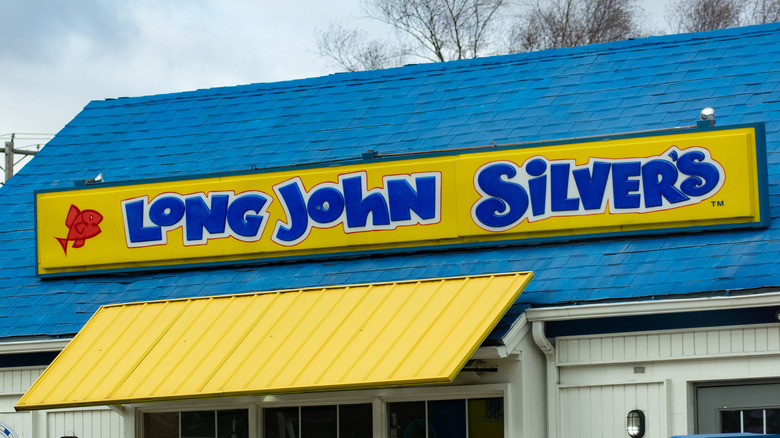 Subitus/Shutterstock
If you're craving burgers, fries, or a slice of pizza, there is no shortage of fast-food chains to satisfy your hankerings. On the other hand, when it comes to seafood, there are far slimmer pickings in a much smaller pond. That's why Long John Silver's is a catch when it comes to fried fish, shrimp, and salmon. 
The big fish of seafood got its start in 1969, when the first Long John Silver's restaurant opened in Lexington, Kentucky. Just over a decade later, the restaurant had already become a national brand with more than 1,000 locations scattered across the United States (via Eat This, Not That). That's not to say that this now-Louisville-based chain has not faced its fair share of rocky waters. The seafood chain filed for Chapter 11 bankruptcy protection in 1998 (via Goody Feed) and closed a slew of restaurants in the 2010s (via WQAD).
Despite years of rough sailing, Long John Silver's is still hanging on, thanks to its unique, tasty seafood roster. From its baked shrimp and crispy fish sandwich to its signature Alaskan whitefish battered and fried to perfection, there are so many delectable menu items to choose from at LJS (via Long John Silver's). If you are a long-time Long John Silver's fan, you're in luck! Their beloved Mac & Cheese is making a comeback, but this time around, it is sprinkled with a delicious crunchy topping.
Creamy and crunchy mac and cheese? Yes please!
It's official: LJS's delectable Mac & Cheese is back and better than ever. According to Chew Boom, this all-new mac and cheese dish features the brand's signature mac and cheese made with elbow macaroni and covered in a rich and silky cheddar cheese sauce. The finishing touch? This comforting dish is topped with Long John Silver's infamous Crumblies. As LJS aficionados know, crumblies, crunches, or crispies are pieces of fried batter that are usually sprinkled on top of Long John Silver's fish and fry platters. Sounds delish, right? Well, loyal customers love these fried crumbs so much, LJS even has a whole secret menu side dish dedicated to crumblies (via Mental Floss).
You can find Mac & Cheese with Crumblies at participating LJS locations for a limited time only. Get your hands on this item while you still can, because there's nothing like a hot, comforting bowl of mac and cheese to warm you up in the winter months. LJS is also promoting its legendary lobster bites and $10 sea shares, both of which will also only be available for a limited time. The yummy sea shares include a 15-piece grilled shrimp, 15-piece fried shrimp, 9-piece chicken, and 6-piece fish, with each one only costing $10.