The Devastating Death Of 'Queen Of Cakes' Sylvia Weinstock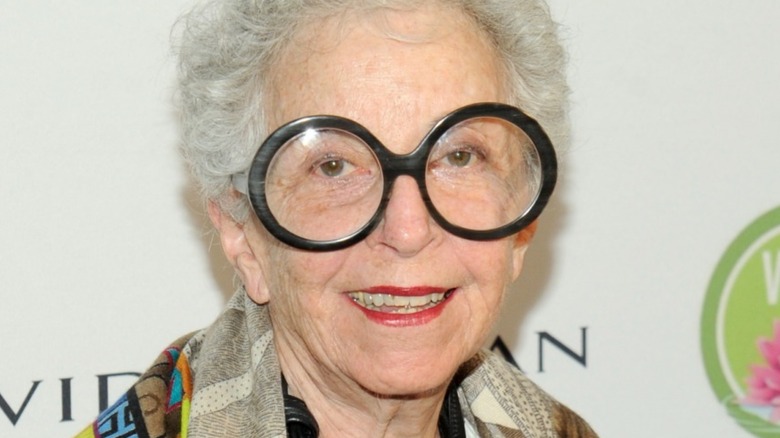 Brad Barket/Getty Images
Sylvia Weinstock, the famous cake designer who "pioneered an industry of towering, sugar-flower wedding cakes," has died at the age of 91, according to her website. A native New Yorker who was born in Brooklyn, Weinstock died peacefully in her home in New York City's Tribeca neighborhood on Monday, November 22, "surrounded by her loving family." The master of cake artistry was a game-changer for the wedding cake business, having taken what was once an American tradition of ordinary and often barely edible American wedding cakes to new and opulent heights. Indeed, her creations were once hardly imaginable outside the courts of British and French royalty (via CBS News). 
The secret to Weinstock's success was "no shortcuts," the about page of her website explains. And her stock response to clients seeking to innovate was, "Never say never." The result was cake artistry innovations such as "miniature cakes shaped and decorated like Fabergé eggs; cakes that look like cars, cravats, and circus clowns; or a menagerie of fantastic creatures (bunnies, bugs, tigers, terriers, and even an armadillo), all concocted from butter, flour, and sugar."
Of course, not everyone could afford to hire Ms. Weinstock to design their wedding cakes ("It's a luxury," Weinstock acknowledged to CBS News). But virtually anyone could appreciate the beauty and drama of her sculptural yet edible designs. Indeed, the death of the Queen of Cakes has dealt a devastating blow to the culinary world, as well as to Weinstock's hordes of fans, appreciative customers, and beloved family. 
Remembering 'Queen of Cakes' Sylvia Weinstock
The devastating death of Sylvia Weinstock, the Queen of Cakes, comes just two months before what would have been her 92nd birthday on January 28, 2021. Incredibly, Weinstock had only last month taken a brief detour out of her much-deserved retirement to design the lavish cake that stood as the centerpiece of the wedding of Microsoft's Bill Gates' daughter, Jennifer Gates, who married equestrian Nayel Nassar in Westchester County, New York, on October 16 (via People). Perhaps even more incredibly, Weinstock did not enter into the profession that made her famous until the age of 50, after she had retired from her first profession as an elementary school teacher on the South Shore of Long Island, per the death notice on Sylvia Weinstock's website.
It was during Weinstock's recovery from breast cancer that she and her late husband Benjamin — an attorney who predeceased Weinstock in 2018 at the age of 93 — moved to Manhattan and got their custom cake business off the ground. Weinstock's cakes made their debut at The Carlyle, a luxury hotel on Manhattan's Upper East Side. Over time, she would make cakes for the likes of Robert De Niro, Oprah, Martha Stewart, Michael Douglas, Ralph Lauren, and Jennifer Lopez, as well as the Rockefellers, Kennedys, and the Clintons.
Sylvia Weinstock is survived by three daughters — Ellen Weldon, Amy Slavin, and Janet Weinstock Isa — and their families, not to mention fans, adoring clients, and extended family and friends.