What Makes Guy Fieri's New Cooking Show So Unique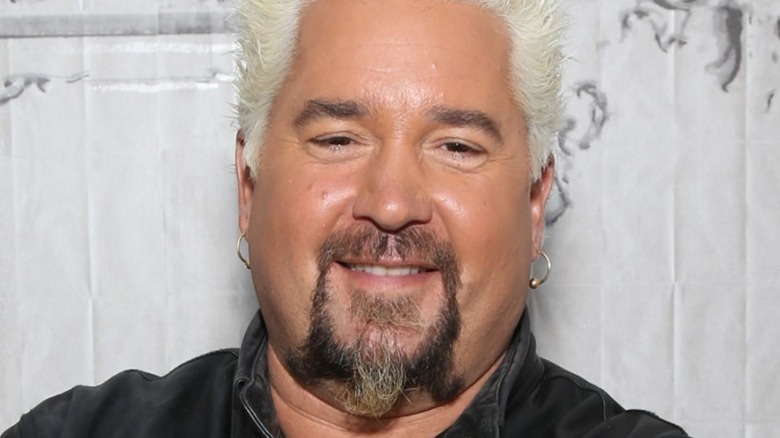 Bennett Raglin/Getty
This is not Guy Fieri's first rodeo. After winning the Food Network competition show "Next Food Network Star" in 2006, the flashy "flavertown" food aficionado embarked on a storied career in the food show universe, helming no less than 10 of his own series (via The Thing). He's always been an innovator, and food has been his ticket since he was a child. At the ripe age of 10, he started a pretzel stand and operated it until he was a high-school sophomore. The earnings from this venture were well spent: They paid for the aspiring TV and restaurant maven to spend a year in Chantilly, France, where his future as a foodie was cemented. There, Fieri found the love for food that is the lifeblood of the food entrepreneur, and he (thankfully) never looked back.
Fieri's latest endeavor has him paired with restaurateur Robert Earl of Planet Hollywood fame. The food venture focuses on pretty simple fare: chicken. The fast-casual Chicken Guy!, which opened its flagship location in Florida's Disney Springs, has another 14 locations either open or in the planning stage (per The Hollywood Reporter). And one of those planned Chicken Guy! franchises will apparently be helmed by one of the seven contestants on Fieri's newest food challenge show, "Guy's Chance of a Lifetime."
And the winner is ...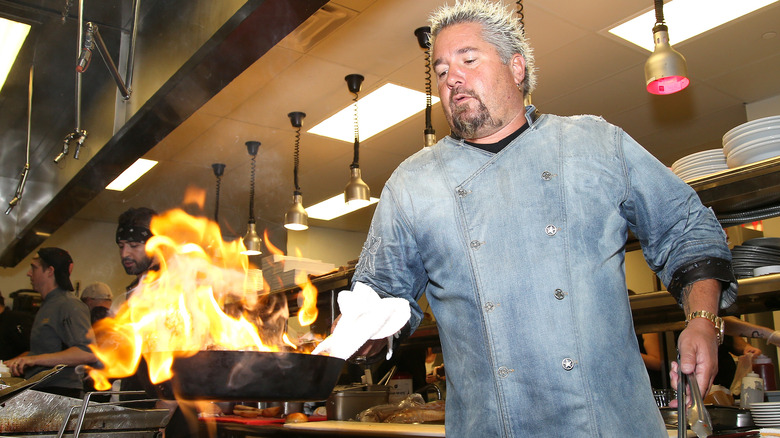 Paul Zimmerman/Getty Images
That's right, the winner of this latest competition show, which airs its first episode on Food Network on January 2, won't be awarded a cash prize or a coveted coat. As reported by The Hollywood Reporter, the winner of this contest will be handed the keys to their own Chicken Guy! franchise. And it's not your average cooking competition. "No eliminations, no meaningless cook-offs each week," Fieri said. "It's a real-deal job interview for a life-changing opportunity. The candidates on Guy's Chance of a Lifetime have to prove that they are the best all-around talent in the food business, and if they can do that, we're in business — together."
Chicken Guy! has a unique take on the tried and true American standard that involves a signature brine of pickle juice, fresh lemon juice, and buttermilk, and the all-natural tenders are hand-pounded fresh, herb-infused, and cooked in pressure fryers. The seven contenders will encounter all things Chicken Guy! during the show's inaugural episode, when they will embark on their journey and devour everything there is to know about the franchise. They are tasked with learning how to prepare every menu item and successfully man each kitchen station. 
The show's grand finale, which is scheduled to air on February 6, will focus on a food festival that puts each contestant operating their own food tents, serving the large crowd, and awaiting their fate at the hands of the panel of judges. The winner will embark on a career in Fieri food franchise land, hopefully embracing their future with the flair and gusto that have become a trademark of the Guy Fieri brand.