Aldi Turns Heads With These Boozy Holiday Drinks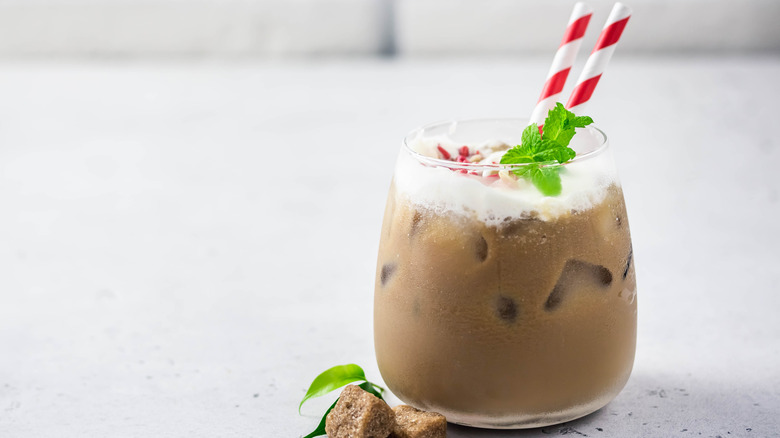 Irina Rostokina/Shutterstock
There's nothing like a boozy beverage to help make the holidays more merry and bright. Maybe you like a mug of toasty spiced rum to warm up after cutting down the tree, or maybe you like to warm up with a glass of creamy eggnog from the punch bowl at the annual holiday party. And who can forget the celebratory flutes of champagne on Christmas Eve and New Year's? Even if you like to keep it simple with some red wine paired with a few Christmas cookies, regardless of your preference, festive alcoholic drinks are a staple of the season for many adults.
If you're looking for something to spike up those sips this holiday, Aldi has the goods. The budget grocery store chain is famous for its seasonal releases, and its highly anticipated 2021 December Finds holiday line-up includes a handful of spirited adult beverages. Here are two festive new drinks to hit Aldi shelves just in time for Christmas, as spotted on Instagram.
People can't wait to get their hands on these festive alcoholic beverages
Leave it to the Aldi fan accounts on Instagram to find all of the best holiday releases, like these new seasonal sips. Both @adventuresinaldi and @aldi.mademedoit shared photos of two new drinks perfect for the Christmas season: Holly Hill Farms Eggnog and Petit Peppermint Bark Wine Specialty. The pre-mixed eggnog is a crowd-favorite from last year that's returning to the delight of many shoppers. With a 13.9% ABV, it's made with white wine, egg yolks, sweet cream, and aromatic spices like cinnamon and nutmeg (via Delish). It costs just $7 per bottle, so you can stock up ahead of all your holiday parties and events.
As for the minty wine that people are equally excited about? The label describes it as "a blend of white wine with peppermint and white chocolate flavor and the finest cream." It also has a 13.9% ABV, and Aldi recommends serving it with ice cream or any chocolate dessert. Instagram favorite @aldi.mademedoit also mentioned in their post that these two would pair great with coffee. As for what fans are saying about these new seasonal treats, one follower agreed with the original poster saying, "Peppermint in iced coffee is so tasty. I will definitely be on the hunt for these!"