The Reason 'Unicorn Whiskeys' Are So Expensive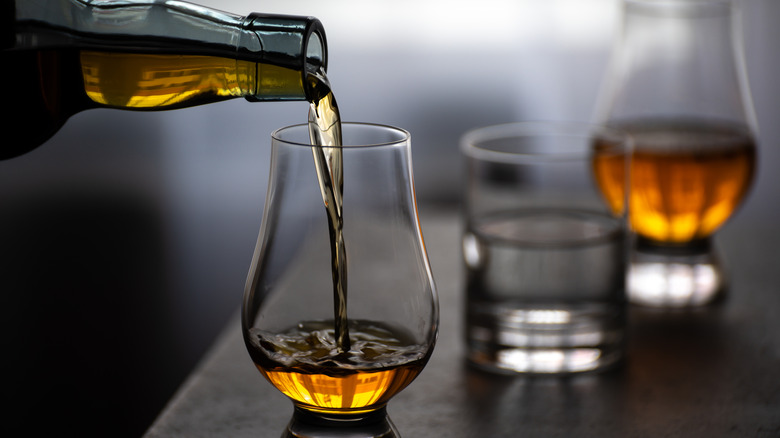 barmalini/Shutterstock
While the unicorn might only exist in wizarding worlds and fantasy books, the quest to find a truly unique, rare, and dignified item can be compared to finding the magical creature in the wilderness. "Unicorn whiskeys," however, are not figments of the imagination, but like its namesake, they are a truly special find.
According to Gear Patrol, unicorn whiskey "is a sought-after bottle of limited-edition, hard-to-find bourbon." Bourbon & Banter describes these bottles as "heard of" but not often seen. These exclusive bottles are not usually found in the common restaurant or bar, and they are hardly promoted on social media, making them even more desired. 
From American bourbons to Irish whiskeys, the unicorn label has been attached to many specialty bottles. Although there is no specific category, designation, or ranking for them, limited quantities are often deemed a unicorn status. The liquor might be purchased for bragging rights, for a collection, which, per Bourbon & Banter, is called a "blessing," or just for the appreciation of it. Still, many people might stare in disbelief at the sight of a unicorn whiskey in real life.
Not all unicorn whiskeys are alike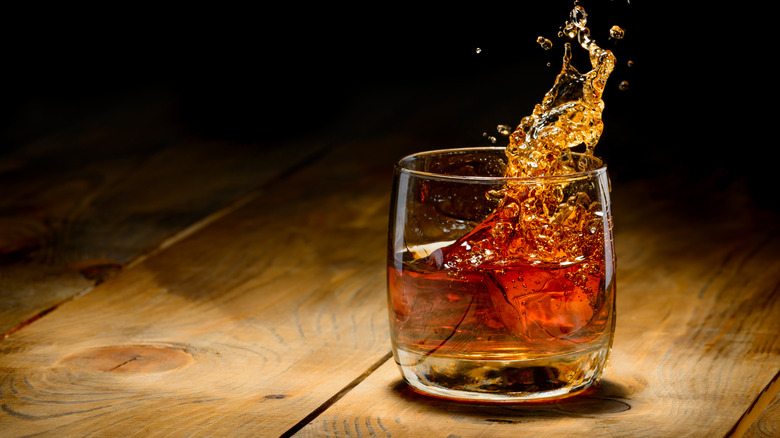 Ruslan Semichev/Shutterstock
Categorizing unicorn whiskeys can be as impossible as finding one in real life. The term "unicorn" is typically applied when there is limited availability of a high-end bottle, and often the label can be associated with some hype surrounding a particular release (per Uproxx). From the regal Michter's 25, which Uproxx reports can go for more than $8,000, to the sought-after Pappy Van Winkle, the reality is that the unicorn label does help build the momentum (and the price) surrounding the liquor. Although many are quite expensive, not all of these specialty bottles are out of reach.
Vinepair recommends nine less pricey unicorn bottles worth trying — if you can find them. While some brands will be immediately familiar, like Maker's Mark and Wild Turkey, others may take a moment to recognize (or even research), such as Smoke Wagon and Pinhook. Each liquor is unique in flavor but borrows from its brand's most revered characteristics, adding to its allure. Even if you don't consider these particular bottles a daily indulgence, they probably aren't a once-in-a-lifetime drink either.