Trader Joe's New Tomato-Based Pesto Has Fans Excited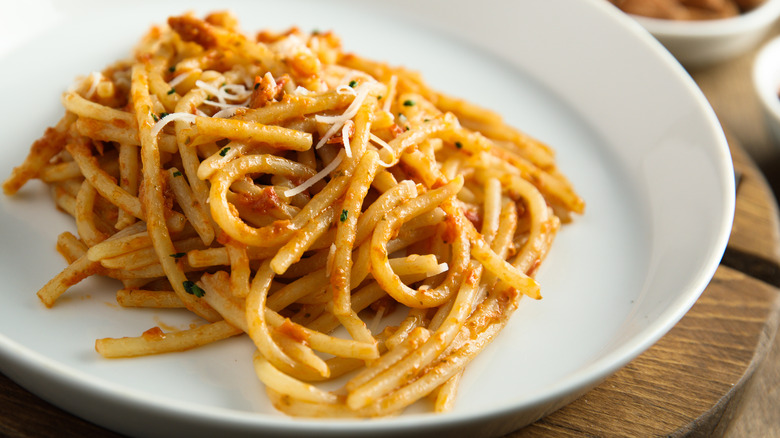 MariaKovaleva/Shutterstock
Whenever you feel tired of a classic marinara sauce, nothing makes your pasta pop quite like fresh basil pesto. According to Lovefood, this sauce originated in 12th- or 13th-century Genoa, Italy, and has maintained the same recipe today of pine nuts, garlic, pecorino, Parmigiano-Reggiano, olive oil, and sea salt. The sauce is so beloved that some people are trying to get UNESCO to recognize pesto on the organization's Intangible Cultural Heritage list. 
You're probably familiar with pesto, but you might not have tried pesto rosso, the red version of the sauce that comes from Sicily and uses sun-dried tomatoes as its key ingredient, per Striped Spatula. If you're curious, you don't even have to travel to Italy to enjoy this exquisite sauce, as a version of the tomato-based pesto is available in a jar at Trader Joe's. Instagram fan account @traderjoeslist discovered that their local Trader Joe's now carries a $2.49 container of pesto rosso, a tomato-based sauce featuring parmesan and cashews, and had to snap a picture of the goods. The captioned reads, "You had me at rich umami flavor. I am so excited to see this pesto sauce on the shelves and will be adding this to my #traderjoeslist this week! I'm curious about the cashews vs pine nuts swap and can not wait to try it! Bring on the pasta!" 
There's a ton of Instagram love for Trader Joe's pesto rosso
Gleeful replies like, "I neeeeed," and, "I just bought this randomly today! Going to have it tonight with pasta. So excited, didn't know it was new!" rained down on @traderjoeslist's post (via Instagram). Other shoppers have had less luck getting their hands on the item, replying with, "Ah I looked for this today but couldn't find it! Guess it didn't make its way to the east coast yet," while others simply feel enticed by the new product, saying, "I need to try that out [it] look yummy." One astute shopper even noticed, "Omg and no added sugar !!!!!! Finally."
If you love pasta but have started to feel burnt out on the same old sauces, see if Trader Joe's pesto rosso hits the spot. With any luck, you might just find your new favorite take on a centuries-old sauce — and get even more hyped for linguine and fusilli throughout the week.