What You Didn't Know About The Italian Restaurant Lady Gaga's Family Owns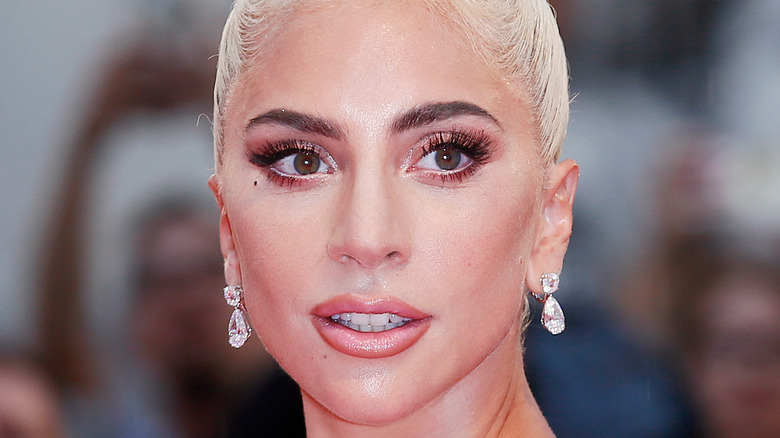 Andrea Raffin/Shutterstock
In 2012, Lady Gaga's parents made their debut in the culinary world with the launch of their Upper West Side eatery, Joanne Trattoria. As per ABC News, the eatery's name was a tribute to the singer's late aunt, Joanne, who passed away at 19 years old due to a chronic health issue. She was an artist.
The family added a lot of thoughtful touches to the restaurant that made it feel like a family affair, such as the menus showcasing a glimpse into the family's favorite recipes. Customers could look forward to delicious Italian dishes such as tomato fennel soup, antipasti salad, lasagna, wood-fired focaccia, zucchini fritters, and a lot more. Also, Lady Gaga's parents worked with chef Art Smith to finalize the restaurant's menu. Smith is a highly experienced chef who has previously worked with famous clients like Oprah Winfrey and Bob Graham. Even though the menu is top-notch, it's still relatively affordable, with prices clocking in between the $25 to $30 range.
Lady Gaga tried to keep a low profile
According to The New York Times, Lady Gaga was aware that the eatery would generate a lot of attention because of her celebrity status. Whenever she spoke about Joanne Trattoria, fans reacted with a lot of excitement. Interestingly, it was revealed that chef Art Smith first bumped into the singer at a recording of "The Oprah Winfrey Show," which was the start of their working relationship together.
Even though the family could generate a lot of free publicity by using Lady Gaga to promote it, they wanted to establish themselves as a quality Italian restaurant and not a gimmicky celebrity chain. The family wished to focus on the eatery itself, and because of that, Lady Gaga is not an owner. The singer's father told The New York Times, "If they're expecting to come in here and see Grammys and pictures and stuff like that, it's not going to happen."