Instagram Is Raining Hearts On This GBBO Reunion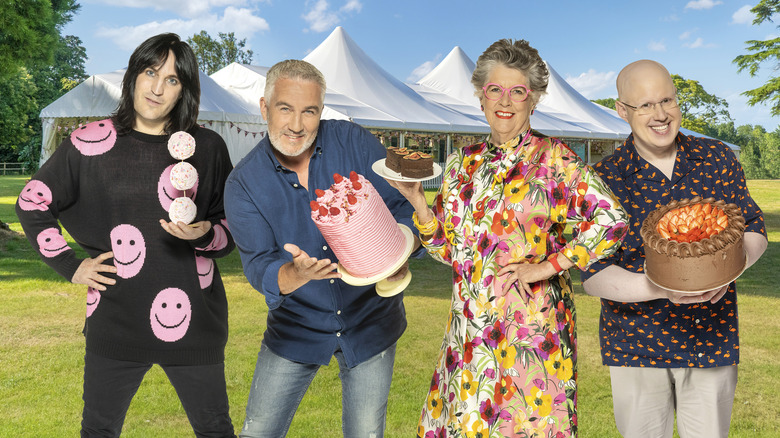 Mark Bourdillon/Netflix
Fans tune in to the "The Great British Bake Off" every season to see impossibly gorgeous bakes, the antics of the hosts, and the intimidating stare of judge Paul Hollywood. What they also really love is how the contestants seem grow close over the weeks in the tent, having fun and looking out for one another. If you've ever wondered if these bakers stay in touch after leaving the tent at the end of filming, we're here to tell you they absolutely do! In an interview with Insider, Season 7 contestant Rav Bansal shared that contestants are as close as family after competing together. "It is amazing how you can put 12 strangers together and we are able to get on so well. We are always supporting each other's projects," he shared.
Further proof of this competition camaraderie unique to the "Great British Bake Off" was seen in a recent Instagram post from author and Season 5 contestant Chetna Makan, who got together for dinner with six other bakers that shared the tent with her that year. "After a 2 year break it was so lovely to finally hug and spent an afternoon with some of my [favorite] people, all in one room, continuing our ['Great British Bake Off'] Christmas tradition with these amazing friends!!!!!" she wrote. Her Instagram family was thrilled as well, showering hearts and comments on the post that shared nearly a dozen photos of the old gang back together. 
All these years later these GBBO friends are as close as ever
According to the Instagram post from Chetna Makan, the bakers and friends from "The Great British Baking Show" reunited over dinner at London's newly-opened Colonel Saab restaurant. Gathered with her that evening were Richard Burr, who according to the BBC is a builder by trade but who also created stunning desserts, Jordan Brown-Cox, who dubbed himself the "nerdy baker," Iain Watters, who fans remember was at the center of a baked Alaska controversy, Martha Collison, who was the youngest baker ever to compete, and Nancy Birtwhistle who was the winner of the series. Also at the dinner party was Kate Henry.
Though their "Great British Bake Off" days were seven years ago, in the post the bakers look as close and as tickled to see each other as ever. Makan writes that the friends were thrilled to resume their annual holiday gathering after pandemic lockdowns put the tradition on hold. "GBBO" fans were excited too, with one follower commenting, "This makes my heart happy." Collison also shared the event on her own Instagram, sweetly noting other Season 5 friends who couldn't attend: Fans will remember Diana Beard, Norman Calder, Enwezor Nzegwu, Claire Goodwin, and finalist Luis Troyano, who tragically died of cancer in 2020 according to the BBC.