Fans Are Trying To Guess Why Only Some Chick-Fil-As Sell Hot Chocolate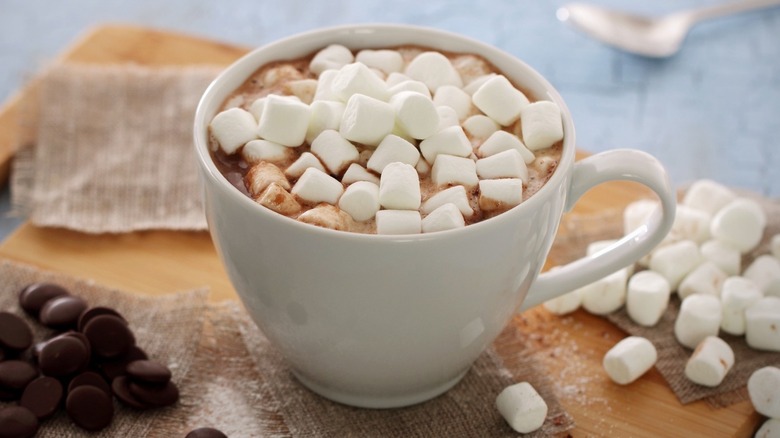 Anna81/Shutterstock
As the temperatures outside continue to drop, it looks like it's finally time to start sipping on something hot to help keep us toasty and warm. Restaurants and coffee shops have made it easy to leave our favorite iced beverages behind by bringing back a few festive drinks to their menus like the classic Peppermint Mocha, which US Roast says becomes one of the most popular orders coffee shop orders during this time of year. However, despite the hype around the minty, seasonal drink, it isn't America's favorite thing to guzzle down during the colder months. Instead, that accolade belongs to none other than hot chocolate. Not only was the refreshment dubbed America's favorite winter beverage last year in a poll conducted by YouGov, but, according to Penn Live, many consider sipping on a mug of cocoa to be the best part of winter in general.
As such, hot chocolate has earned either a permanent or seasonal spot on the menu at several eateries throughout the country – though pulling up to the drive-thru of one beloved fast-food chain may sadly your quest for the sweet drink unfulfilled. "I wonder every year why Chick-fil-A doesn't have hot chocolate," Redditor u/caring122 pondered in the restaurant's subreddit page, noting that the beverage would be "great" with a chicken biscuit. Several users chimed in to reveal that their local Chick-fil-A's do, in fact, offer hot chocolate, leading to a lengthy discussion as to why it's only available at select locations.
Making hot chocolate is a 'nightmare' for Chick-fil-A employees, according to fans
The Bragging Mommy gave a glowing review of Chick-fil-A's hot chocolate, but sadly, the beverage isn't on the menu at all of the chain's 2,600-plus U.S. locations (via SmartScrapers). Chick-fil-A itself doesn't appear to have an explanation for this, though many Reddit-using fans of the Georgia-based chains have a few ideas. "The matrix would split open," one user jokingly said in response to u/caring122's recent post expressing their dismay about the beverage's absence at Chick-fil-A. Redditor u/elsenorjustica had a more logical theory, speculating that whether a place has cold winters might be the "deciding factor."
The "nightmare" logistics of making hot chocolate Chick-fil-A was one of the more popular theories in the discussion, with u/hlturner pointing out that cups are whipped up one at a time with hot water and individual packets of cocoa mix rather than in a big batch. "Yeah our store had it a few years ago and got rid of it. It wasn't ordered often and was a pain to make when people DID order it," a fourth person added (via Reddit). Fortunately, not all hope is lost if you also think hot chocolate would pair nicely with the chain's food. Per The Chicken Wire, Chick-fil-A chef Christy Cook has developed a recipe for Mexican Hot Chocolate that requires a mere seven ingredients and sounds like the perfect way to satisfy your craving for the fan-favorite beverage as you munch on chicken sandwiches all winter long.