McDonald's Just Teased This Holiday Favorite Is Coming Back On Twitter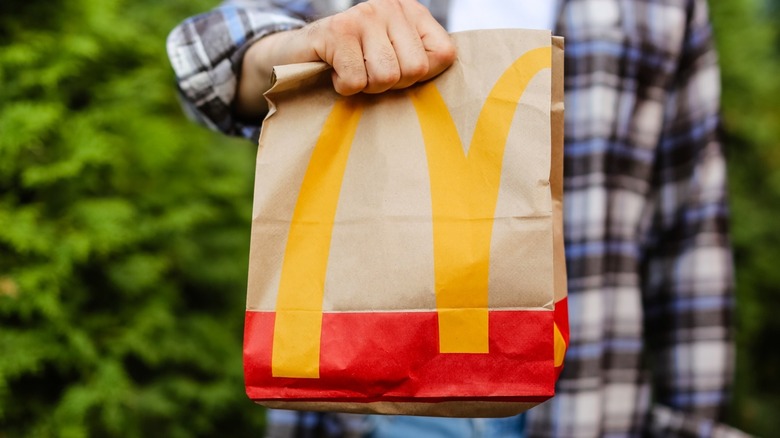 Eliz A/Shutterstock
Apparently, a Twitter user named Jay spent their weekend driving from one McDonald's restaurant to another. "@McDonalds WHEN ARE YALL GETTING HOLIDAY PIES BACK??!" they pleaded on Twitter, only to issue a follow-up tweet one hour later. "Update: I have been to four different McDonald's." Evidently, it was time for the chain's social media crisis manager to step in. "We understand how much you adore our holiday pie, Jay," McDonald's soothed the eager customer. "It won't be long before it reappears. Keep an eye out for updates." After all, it was just Thanksgiving.
McDonald's wasn't lying to Jay, as the beloved holiday pies have begun to be spotted on menus across the country, Chew Boom reports. For those who haven't tried them, holiday pies look similar to McDonald's apple pies, but they're filled with vanilla custard and adorned with rainbow sprinkles — and they're only available for a limited time during the holiday season. So, if you, like Jay, could not find the pies over the holiday weekend, you may be able to order them in the coming days.
Just wait patiently for McDonald's holiday pies
"But what if I can't wait a few more days for a holiday pie?" you might ask. If you're as determined to enjoy McDonald's holiday pies as Jay or those who desperately searched for the offering in 2020, there are ways to make the limited-time dessert at home. Food blog In Katrina's Kitchen offers an easy, at-home alternative to hitting up every McDonald's location in your city. "This past December my husband was in his happy custard place and I sat across from him thinking how easy this would be to create at home," the blogger wrote about the inspiration for the copycat McDonald's recipe. You'll just need a few staple ingredients and the patience it takes to wait for your pies to bake.
Not into cooking? You can always take McDonald's advice and wait patiently for your nearest restaurant to begin serving the holiday pies. As one excited customer shared on Twitter, "The holiday season can truly start now that McDonald's has holiday pies back." Let's just hope that Jay's season begins soon.