Aldi Shoppers Are Psyched For The Return Of Its Holiday Brioche Star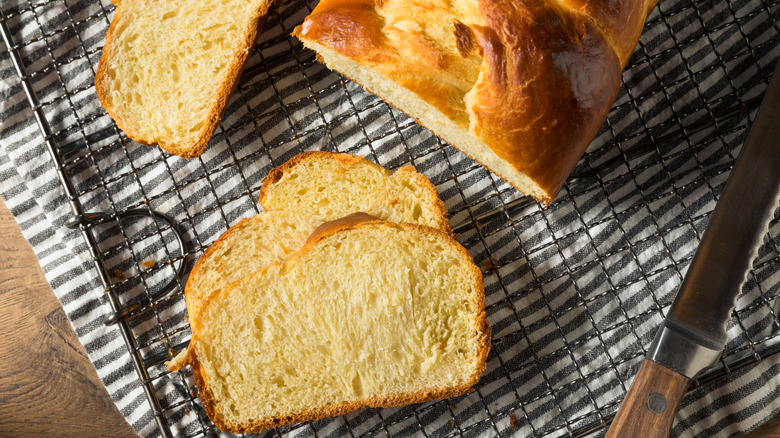 Brent Hofacker/Shutterstock
Nothing says the holiday season like French bread with extra eggs and a high butter content, mashed together in the shape of an astronomical collection of burning gas. Or at least, that's how the saying goes. Some people deck the halls with boughs of holly, some people walk in a winter wonderland, but Aldi shoppers ring in the holidays with a trip down the baked goods aisle, hoping beyond hope that a brioche star will guide their miraculous journey, just like the wise men of yore. Instagram fan account, @adventuresinaldi has clocked an official sighting of this celestial being, posting a photo of the Aldi brioche star, shining bright for all to see.
"Brioche stars and trees!" reads the caption. "So excited about these! They look so cute & I've heard they taste incredible too! Have you tried them yet?! You can find them in the Aldi finds aisle! Which are you grabbing??" The photo series features not only a picture of the eight-pointed Aldi brioche star but of two "trees" – Christmas-tree-shaped brioche rolls, in both vanilla cream and chocolate chip varieties. Fellow Aldi fans responded to @adventuresinaldi's brioche star post with a few flames of their own, along with some surprised and heart-eyes emojis for good measure.
The Aldi Finds aisle has Christmas spirit for miles
"They are so good," writes one user (via Instagram). "I am so excited they are back this year." Another says, "You know how Buddy the Elf screams in excitement over Santa? I screamed like that that these are back! You have to go try them!" No word whether or not the aforementioned fan posted that Instagram comment from behind the candy cane bars of their Aldi cell (reserved for overly zealous, elf-like shoppers who can't contain their Christmas cheer), but if they did, it certainly doesn't seem to have dimmed their holiday spirit.
And really, whose holiday spirits wouldn't be lifted by sweet, airy, buttery bread in the form of Christmas trees and magical stars? The Aldi "Finds" aisle referenced in the post is the section of an Aldi store that changes weekly as specials come and go and is often the best place to look for seasonal favorites like the brioche star. Offers vary by store, of course, And as the Aldi website points out, shipping difficulties may impact the availability of listed items. But take a winter's stroll down the "Finds" aisle and you're sure to see at least one thing that makes you scream like Buddy the Elf. Your family can hardly be mad if they sent you out for a Christmas tree and you come home with a chocolate chip-filled one made out of brioche, right?