Brioche Recipe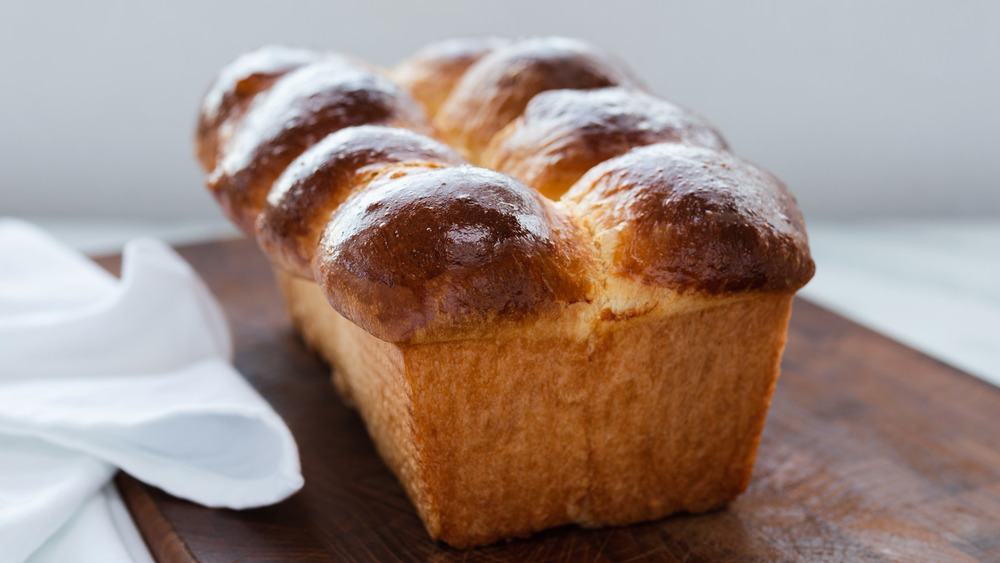 Mark Beahm/Mashed
Chef and food writer Mark Beahm of Sunday Baker is well aware that the brioche is one of the most daunting baked goods out there, at least in the eyes of many aspiring chefs. "Yeah," he says "these can definitely be intimidating, [but] I've made this recipe as straightforward as I could. Many recipes are a three-day process where you start with a pre-ferment the first night, you mix the [dough] next day and let it rise overnight, then bake on the third day."
This recipe will only take you the better part of a day. That's with a long resting period for the dough, a period you can even skip if you just can't wait for fluffy, buttery brioche. Regardless of how long you take to make this delightful foodstuff from the intersection between bread and pastry, plan to serve it up as soon as possible once it's ready.
"Brioche is amazing while it's still warm from the oven," says Beahm, adding that "it's best the same day it's baked as won't really keep that long. You'll already notice a difference the next day. Brioche may not stay fresh for very long, but it's amazing for French toast, plain or spread with butter or jam, [or] you can use it for sandwiches. You can also serve it as a side to soups or stews at dinner."
The key to making great brioche is to be methodical. Follow the steps of the recipe and manage your ingredients carefully. So let's get to it!
Gather your ingredients for brioche
Mark Beahm/Mashed
As with so many great recipes, the ingredients here aren't anything extraordinary, but rather what you'll do with them. It's worth the effort, too, to make delicious brioche bread instead of emptying your wallet for store-bought brioche. All you need to make brioche is 1/3 cup of whole milk, lukewarm, 2 1/4 teaspoons of active dry yeast, 4 large eggs, divided, 3 tablespoons of sugar, 3/4 teaspoon of salt, 3 cups of bread flour, and 1 cup (2 sticks) of unsalted butter. Remember to grab bread flour in particular, as there really is a difference between all those flours on the grocery store shelf.
Simple stuff, right? It's all in how you handle it, says Beahm. "When working with active dry yeast, I always bloom the yeast separately before mixing," he explains. "This ensures the yeast dissolves properly for even distribution in the dough, but it also alerts me early on whether the yeast is going to work. Also, make sure the milk is warm but not too hot. It should feel warm to the touch, but not burn. If you have a thermometer, it should be between 105°F and 115°F."
One more tip: "The butter should be room temperature. It should be soft, but not oily or liquid. I cut it up into tablespoon-sized pieces ahead of time so I can add one small piece of butter at a time when mixing the dough," Beahm says.
Prep your yeast and add wet ingredients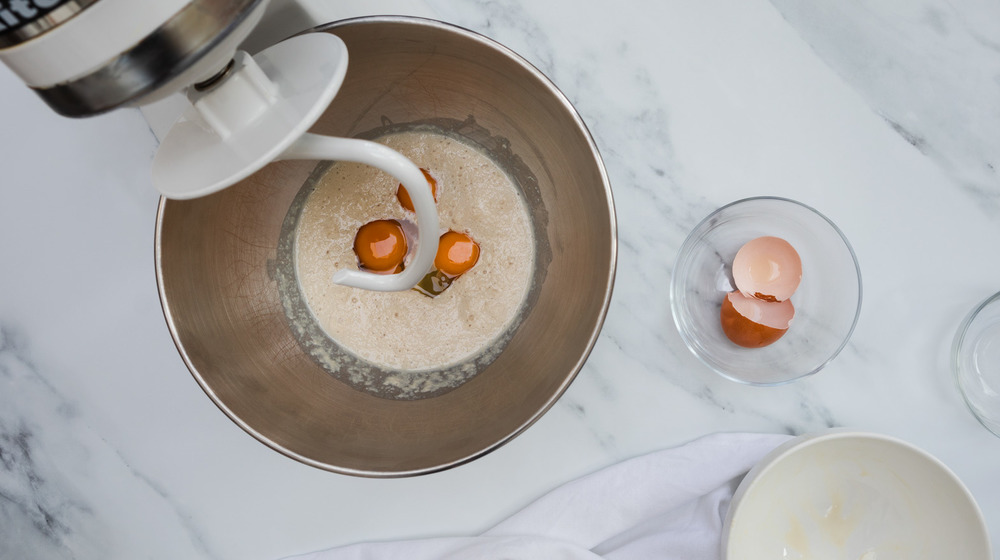 Mark Beahm/Mashed
In the bowl of a stand mixer with the dough hook attachment, dissolve the yeast in the warm milk. Let the mixture stand until it starts to foam, which should take about 10 minutes. If it doesn't develop a foam, you need to assume the yeast is dead and start over. Beahm adds a cautionary tale: "The first time I ever made brioche, I put so much effort into mixing the dough properly, but it seemed like it was taking forever to proof. I left it for hours before realizing that maybe the yeast I used was dead!"
Once the milk and yeast mix is foaming nicely, add three of the eggs, the sugar, and the salt and mix on low speed to combine, which will take you about 30 seconds.
Add the flour and butter for brioche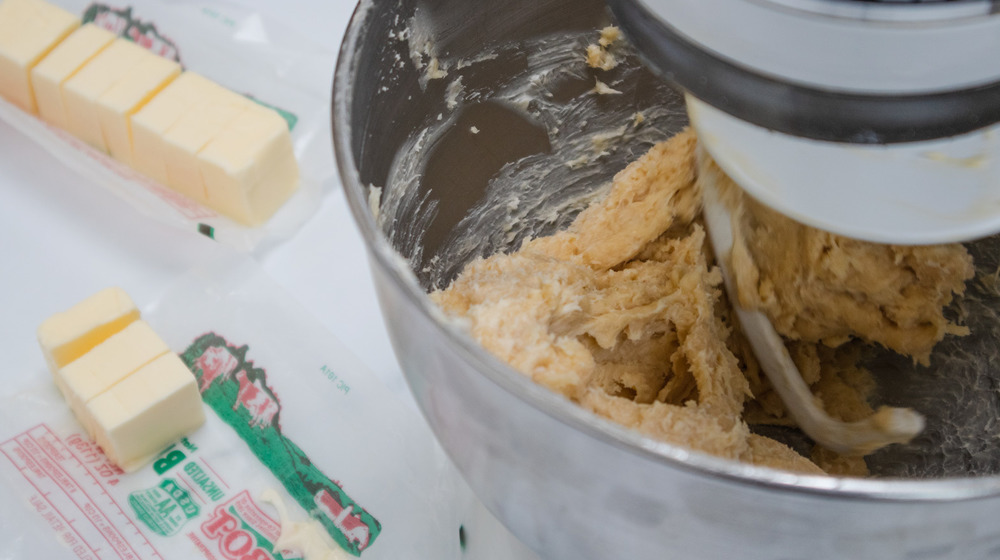 Mark Beahm/Mashed
Add the flour into the mixer with the wet ingredients and mix on low speed until the dough comes together and forms a ball, which will take about 4 minutes. Then, increase the speed to medium and gradually add the softened butter, one tablespoon at a time. Wait until each piece is fully incorporated before adding more butter. 
During this step, pause to scrape down the bowl as necessary to keep everything mixing together. All told, this decidedly hands-on process should take no less than 10 minutes.
Prepare the brioche dough, then let it rest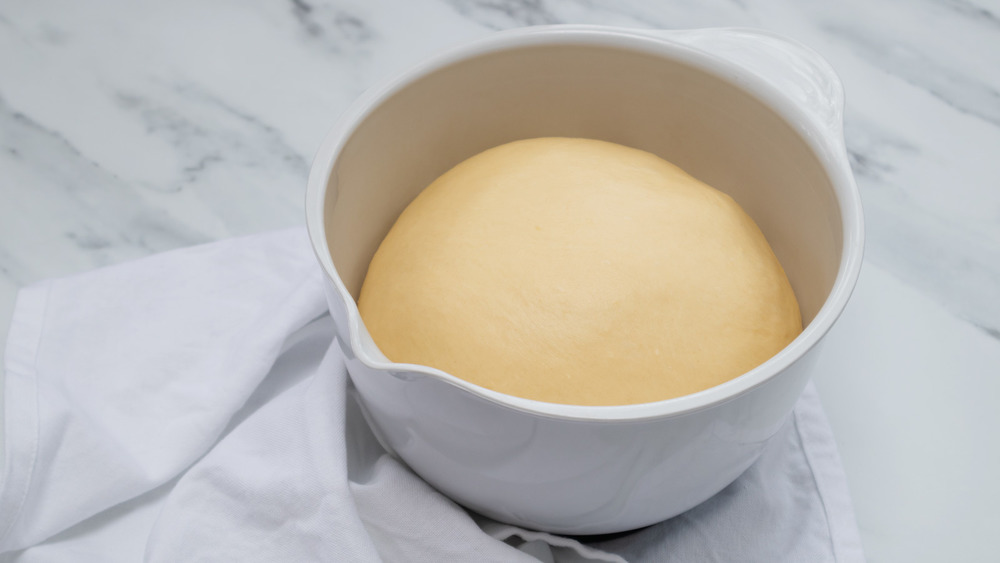 Mark Beahm/Mashed
Once the butter is all mixed in, continue to mix the dough on medium speed for as long as another 15 minutes, or until the dough is very smooth and begins to slap the sides of the bowl. This kneading step is especially easy if you've got a stand mixer to do all the work with the dough hook.
Now transfer the dough to a large, lightly buttered bowl. Cover it with plastic wrap and refrigerate it, ideally overnight, or for at least eight hours if at all possible. "Refrigerating for this long ensures the best flavor," says Beahm, "but you may skip this step and instead let the dough rise at room temperature until doubled in size, about one hour," if you just don't have the time.
Shape the brioche dough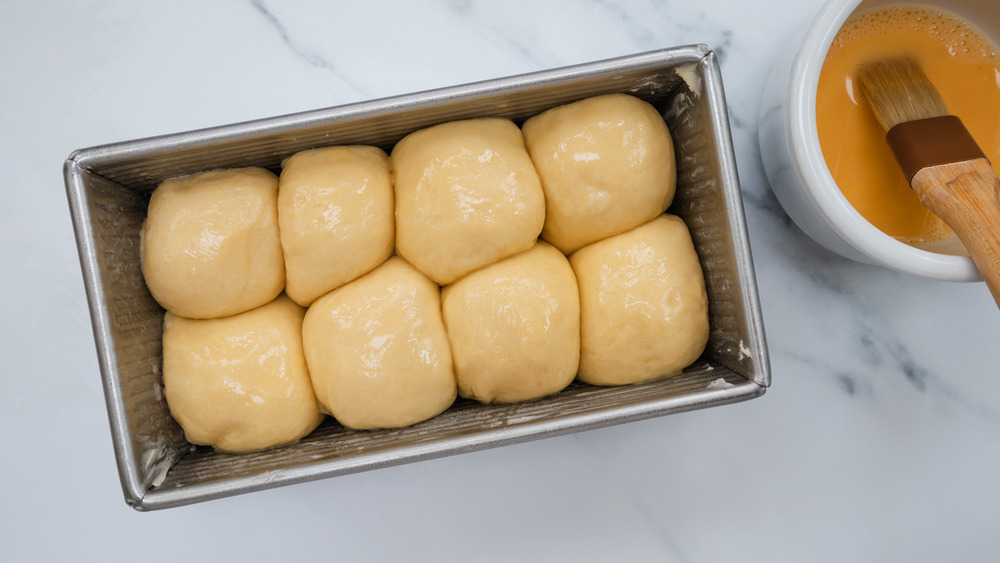 Mark Beahm/Mashed
Grease a loaf pan generously with butter and set it aside at the ready. Then, in a small bowl, beat the remaining egg with a tablespoon of water to make an egg wash. Don't skip the egg wash, as it will add to the brioche's flavor and make it look downright gorgeous.
Now remove the dough from the refrigerator, assuming you went with the long rest and rise. Otherwise, grab it from wherever it sat at room temperature if time was too tight. Divide the dough into eight equal pieces. Shape each piece into a ball and place in that prepared loaf pan in two rows of four with the seam-side down. 
Brush the tops of all the dough balls lightly with the egg wash, then cover the pan with plastic and let it proof until it has almost doubled in size. This second rise will take about an hour and a half.
Bake the brioche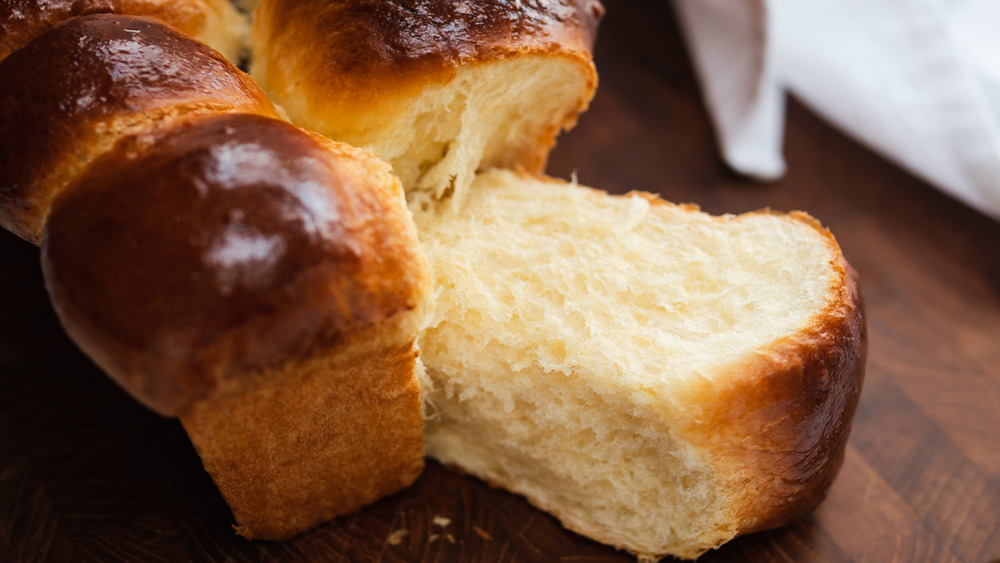 Mark Beahm/Mashed
Preheat the oven to 375º degrees Fahrenheit. Your work, at last, is almost done! The delicious, buttery finish line is in sight.
Remove the plastic wrap from the pan with the expanded brioche dough balls and gently brush the dough with another coating of egg wash. Now, bake the dough for between 30 to 35 minutes, until the tops have turned a rich, golden brown. Keep a close eye on your loaves, as, if the bread overcooks, it will lose that tender airiness that makes brioche famous. 
Now serve your sweet, buttery achievement as soon as humanly possible.
Brioche Recipe
The key to making great brioche is to be methodical. Follow the steps of this recipe, manage your ingredients carefully, and you'll be greatly rewarded!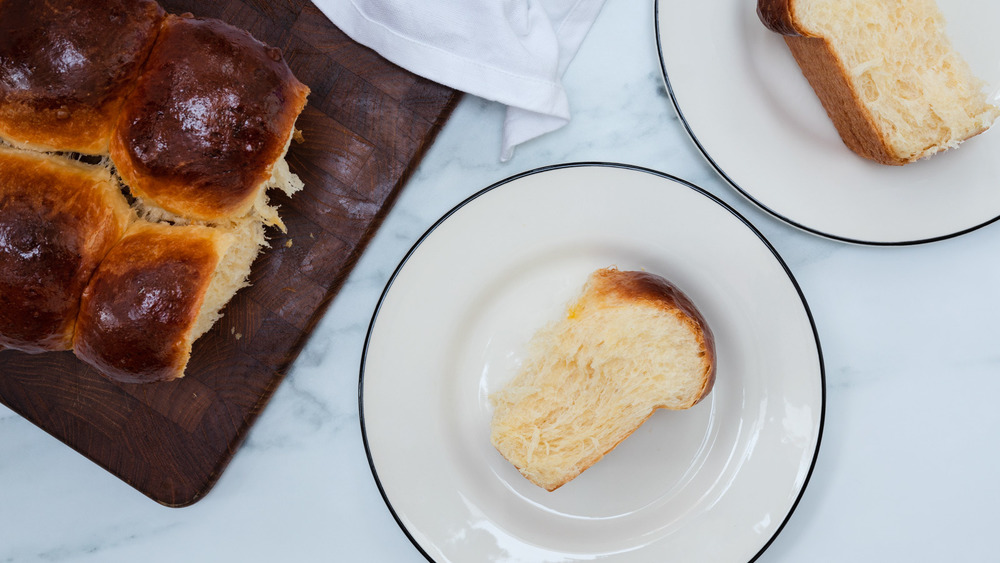 Ingredients
⅓ cup whole milk, lukewarm
2 ¼ teaspoons (1 packet) active dry yeast
4 large eggs, divided
3 tablespoons sugar
¾ teaspoon salt
3 cups bread flour
1 cup (2 sticks) unsalted butter, softened
Directions
In the bowl of a stand mixer with the dough hook attachment, dissolve the yeast in the milk and let stand until it starts to foam, about 10 minutes
Add three of the eggs, the sugar, and the salt and mix on low speed to combine, about 30 seconds
Add the flour and mix on low speed until the dough comes together and forms a ball, about 4 minutes
Increase the speed to medium and gradually add the butter, one tablespoon at a time, waiting until fully incorporated before adding the next piece. Pause to scrape down the bowl as necessary. This should take no less than 10 minutes
Continue to mix the dough on medium speed for a further 15 minutes, until the dough is smooth and begins to slap the sides of the bowl
Transfer the dough to a large, lightly buttered bowl and cover with plastic wrap and refrigerate overnight or for 8 hours. Refrigerating overnight ensures the best flavor, but you may skip this step and instead let the dough rise at room temperature until doubled in size, about 1 hour
Grease a loaf pan generously with butter
In a small bowl, beat the remaining egg with a tablespoon of water to make an egg wash
Remove the dough from the refrigerator and divide it into eight equal pieces. Shape each piece into a ball and place them in the loaf pan in two rows of four with the seam-side down. Brush lightly with egg wash, then cover with plastic and let it proof until almost doubled in size, about 1 to 1 ½ hours
Preheat the oven to 375 degrees Fahrenheit
Remove the plastic and gently brush the dough with another coating of egg wash. Bake for 30 to 35 minutes, until it turns a rich, golden brown
Nutrition
| | |
| --- | --- |
| Calories per Serving | 302 |
| Total Fat | 17.8 g |
| Saturated Fat | 10.5 g |
| Trans Fat | 0.6 g |
| Cholesterol | 103.3 mg |
| | |
| --- | --- |
| Total Carbohydrates | 28.7 g |
| Dietary Fiber | 1.0 g |
| Total Sugars | 3.6 g |
| Sodium | 175.1 mg |
| Protein | 6.9 g |