Authentic Mexican Red Rice Recipe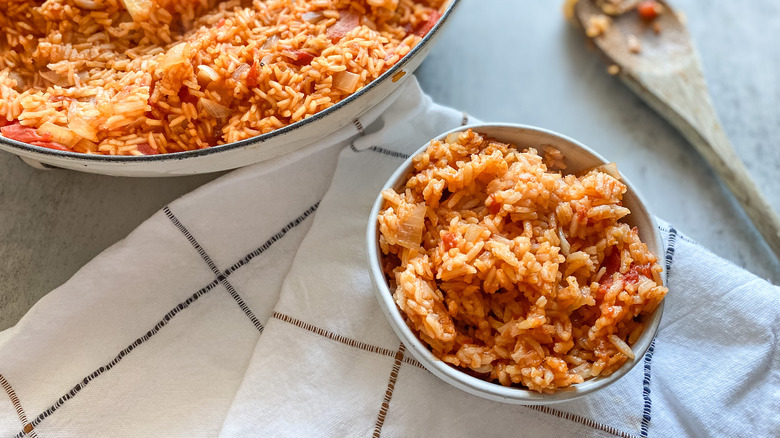 Kristen Carli/Mashed
A great big pot of Mexican red rice is pretty hard to beat because once you've cooked it up, you have the makings for all sorts of amazing meals. This rice can be served with fried eggs, chicken, beans, and salad, and it can easily be incorporated into plenty of dishes. Chef, recipe developer, and registered dietician Kristen Carli of Camelback Nutrition & Wellness says, "I love serving this as a base in burrito bowls or on the side of tacos and enchiladas."
In more good news, this classic red rice is, in Carli's estimation, "very easy" to prepare. If you can dice an onion, mince some garlic, and measure out a few ingredients, then you can by all means prepare this rice. And as the ingredients are all highly shelf- or fridge-stable, you can be ready to cook up a pot of the stuff at any given moment, too.
Gather your ingredients for this authentic Mexican red rice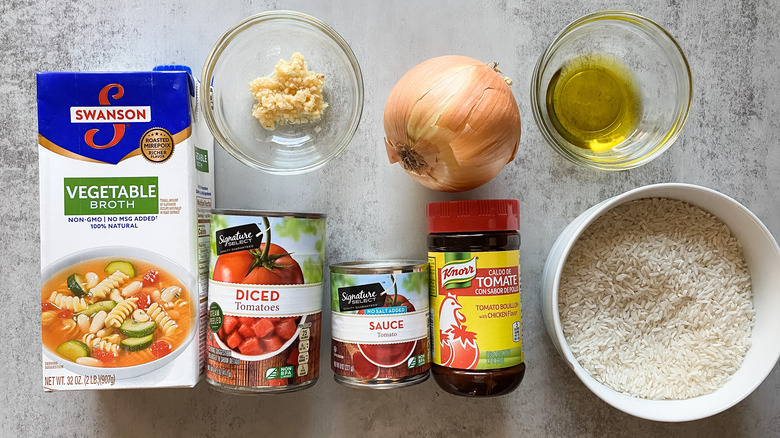 Kristen Carli/Mashed
As noted, you can keep the ingredients you need for this delectable rice on hand at all times, as most of them are shelf-stable for years. Meanwhile, the onion and garlic will keep for many days in the fridge and can even be frozen.
All told, you'll need olive oil, diced yellow onion, minced garlic, white rice, tomato sauce, vegetable broth, Caldo de Tomate (a Mexican tomato bouillon), and a can of diced tomatoes.
First cook the onion, then the garlic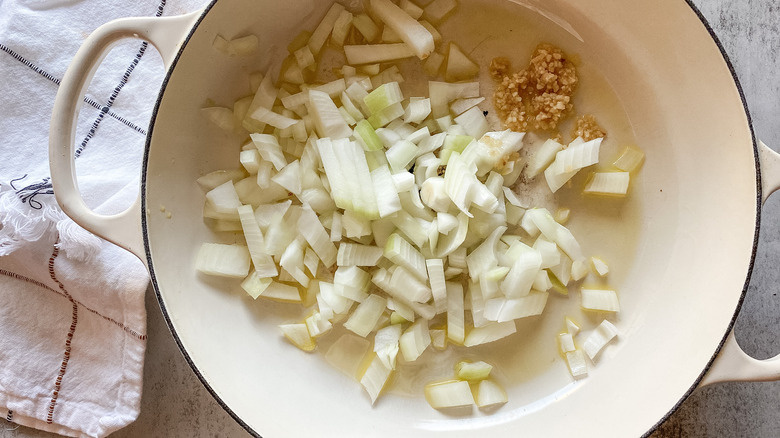 Kristen Carli/Mashed
Like so many fine recipes out there, this one starts by cooking the onion and garlic. Or rather, ideally, first the onion and then the garlic, as you should always cook the garlic for a couple of minutes less to prevent it from burning.
So, heat your oil in a large pot over medium heat, then add the onion and stir it as it cooks for 2 to 3 minutes. Then, add the garlic and keep sautéing until the onion has turned translucent and both are fragrant, which will take about 8 minutes overall.
Add the other ingredients, and simmer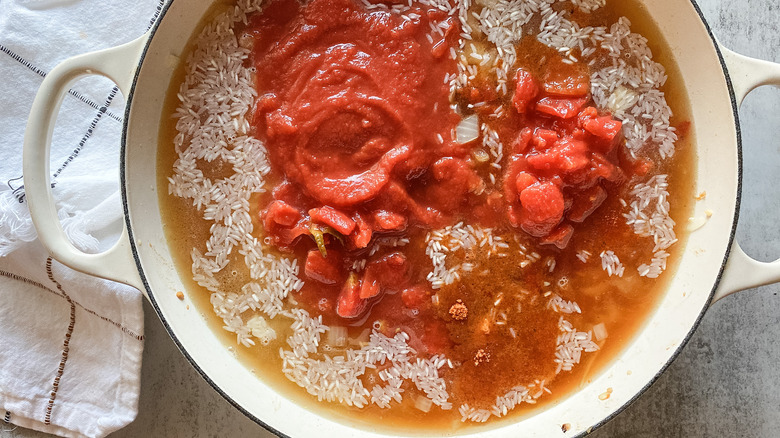 Kristen Carli/Mashed
Now add the rice, tomato sauce, broth, Caldo de Tomate, and diced tomatoes to the pot and stir well. "I love the addition of diced tomato chunks and onion pieces to add a bit of texture," Carli says, so definitely consider a chunkier sauce.
Now bring the pot to a boil and then lower the heat to a simmer. Let the rice cook at a simmer, covered, for 20 minutes or until all of the liquid is absorbed. "Just be careful of drying out, or burning," says Carli, adding, "Keep an eye on the rice at the end of the cook time to be sure."
Serve the rice with a variety of dishes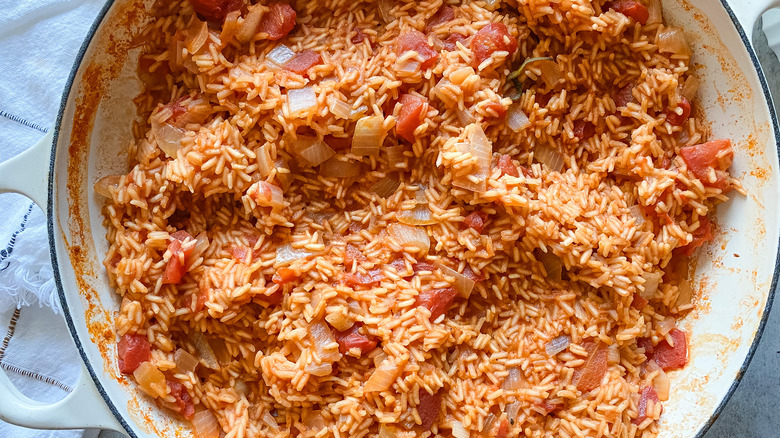 Kristen Carli/Mashed
Once the liquid has been absorbed and the rice is fluffy and tender, cut the heat and consider transferring the rice to a serving bowl to stop the cooking. As for how to serve the rice, we discussed a number of ideas earlier, but note that this dish can also be used across culinary boundaries. It works with Cajun dishes, Italian sausage or meatballs, baked or pan-seared tofu, and on it goes — get creative. As for leftovers, Carli says: "This stores best in an airtight container in the fridge for up to four days [and] it reheats great in the microwave."
Authentic Mexican Red Rice Recipe
Simply add tomato and seasonings to plain rice to make this tasty Mexican red rice. It's perfect as a side dish or base, not to mention ideal for taco night.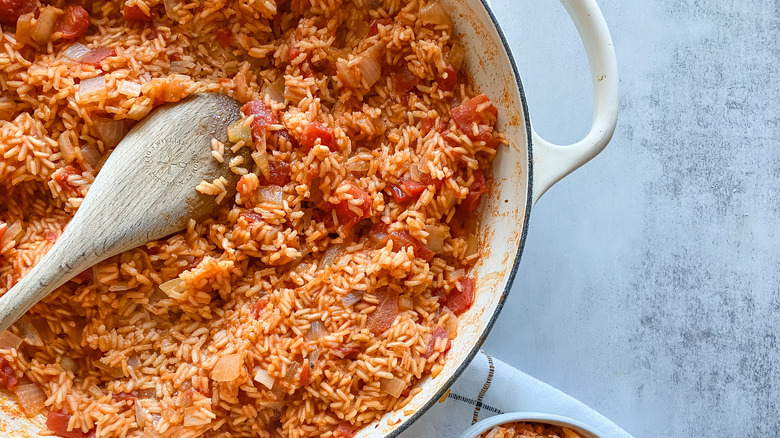 Ingredients
1 tablespoon olive oil
1 yellow onion, diced
2 teaspoons garlic, minced
1 ½ cups white rice
1 (8-ounce) can tomato sauce
2 ½ cups vegetable broth
2 teaspoons Caldo de Tomate (Mexican tomato bouillon)
1 (15-ounce) can diced tomatoes
Directions
Pour the olive oil into a large skillet over medium heat.
Once it is hot, add the diced onion, cooking for 2 to 3 minutes.
Add in the minced garlic and sauté for another 5 minutes or so, until the onion is translucent.
Add the rice, tomato sauce, broth, Caldo de Tomate, and diced tomatoes and stir well.
Bring the contents to a boil and then lower to a simmer and cook, covered, for about 20 minutes, until the liquid is absorbed.
Nutrition
| | |
| --- | --- |
| Calories per Serving | 170 |
| Total Fat | 2.2 g |
| Saturated Fat | 0.3 g |
| Trans Fat | 0.0 g |
| Cholesterol | 0.0 mg |
| | |
| --- | --- |
| Total Carbohydrates | 34.2 g |
| Dietary Fiber | 1.7 g |
| Total Sugars | 3.1 g |
| Sodium | 156.7 mg |
| Protein | 3.4 g |