How Manhattan's Chinatown Inspired Chris Cheung's New Cookbook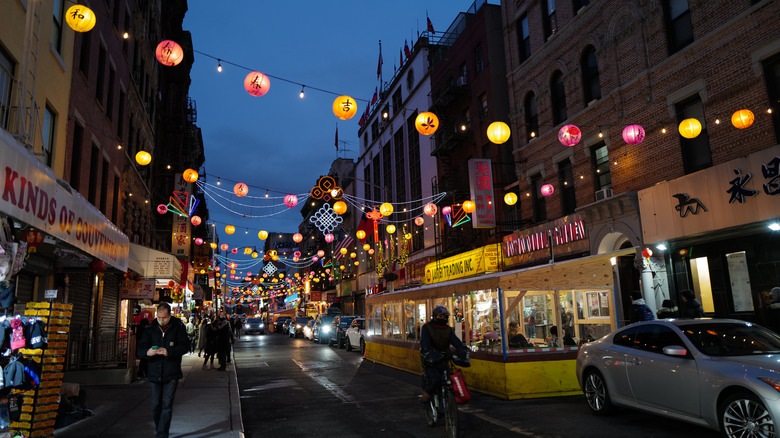 CHOONGKY/Shutterstock
Chef and East Wind Snack Shop owner Chris Cheung was raised in Chinatown, Manhattan, which gave him the opportunity to understand the local culture and truly appreciate the food. According to the East Wind Snack Shop website, Cheung got exposed to Cantonese cuisine as a child and fell in love with the local food. Later, he chose to study the culinary arts at the New York Restaurant School before working at a well-respected Thai restaurant called Vong.
He was also assigned to the team that launched the eatery, Nobu, and spent time working with popular chefs such as Wylie Dufresne and Didier Virot. It was clear that he had a penchant for Chinese dishes. Determined to learn more, he spent some time working in Shanghai where he continued cooking and appreciating food in new ways. He said, "In China, I cooked what we picked from the farm that morning, killed our own chickens, and what we fished from the sea that day."
Cheng has had quite a journey, a crucial part of which took place in Manhattan's Chinatown, the place that gave him the opportunity to expand his horizons and grow as a culinary enthusiast. So it makes sense that this experience would help inspire his new book.
Chris Cheung's cookbook recipes might taste like nostalgia
According to Life And Thyme, Chris Cheung spent a lot of time with his friends in Chinatown as a kid. They'd try everything from shrimp dumplings and noodles to meat on rice. The chef noted that there were certain Toisanese coffee shops in the area that were solely focused on preparing dishes for the working class. He said, "There was a dedication to the food ... You got up at three in the morning to make the dumplings because you needed to be able to do business. And the byproduct was that it made the food better."
Cheung remains heavily influenced by Chinatown and its culinary characteristics. He opened the East Wind Snack Shop in Brooklyn. According to the chef's East Wind Snack Shop website, he even once took celebrity chef Anthony Bourdain around Chinatown on the show, "No Reservations." He has also written about Chinatown's food at length in his first book, "Damn Good Chinese Food." According to the New York Times, the book has 50 recipes for lots of delicious foods, such as pork belly bao buns, designer egg drop soup, and "many, many dumplings."