Aldi's Caramel Stroopwafels Have Shoppers Losing All Self Control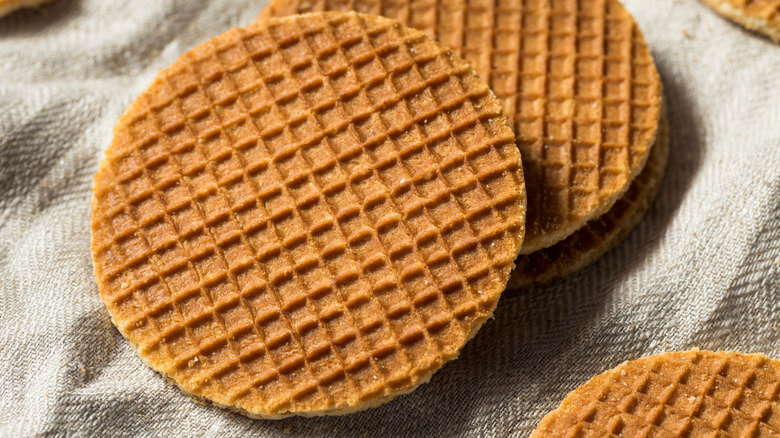 Brent Hofacker/Shutterstock
Aldi is a great place to shop for unique and affordable holiday finds. It seems that every week, the grocery chain comes out with sweet and delicious new items to help make the season even more fun. While shoppers love to find out what new items Aldi will release next, there are also a few fan-favorite holiday products that get customers just as excited when they are finally brought back for the season. One such beloved item is Aldi's popular Specially Selected caramel stroopwafels, which have just returned to shelves for the winter season.
These delectable international treats are imported from the Netherlands and feature a rich, sweet waffle base filled with decadent, creamy caramel, according to Aldi. While a heated stroopwafel paired with your favorite breakfast beverage would be a perfect way to start your morning, these treats make a delicious snack both warm or cold at any time of the day or night. At least, that seems to be the general consensus on social media, where Aldi fans cannot stop raving about these delightful waffles. One shopper is such a fan of the product that they just had to share the news of its return with their followers on Instagram. "Hallelujah it is time for Stroopwafles," posted @aldifavoritefinds.
Aldi's caramel stroopwafels have rave reviews from shoppers
Many of @aldifavoritefinds' followers are equally delighted to see that these special caramel stroopwafels are back on store shelves. Some Aldi shoppers joked that they can't control their portions when it came to these delectable, sticky treats. "Stroopwafels....trying to limit myself to 2," replied @jvbordeaux, while another user said, "I buy these stroopwafels for myself, and myself alone" (via Instagram). Another fan admitted to ruining their keto diet over the stroopwafels — but called the sacrifice "absolutely worth it." 
Although these snacks already seem to be seriously tempting straight out of the $2.49 box, some users also suggested ways to make Aldi's caramel stroopwafels even more delicious. "The box recommends letting it sit on top of your hot tea for a few minutes and whoaaaaa ...big difference! yummmm," raved @waggin.walks. If you've been craving something sweet, caramel-filled, and delicious to start your mornings off right, then you won't want to miss out on these popular stroopwafels; they're listed as a seasonal release on Aldi's website, which means they will only be available for a limited time.