Royal Chef Darren McGrady Spills On Princess Diana's 'Battle' With Harry And William's Nanny - Exclusive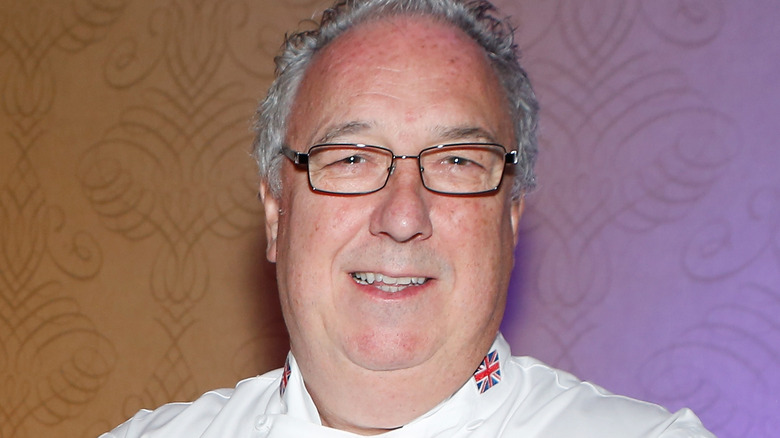 Randy Shropshire/Getty Images
Growing up royal, one of the great benefits is you get to have a personal chef — but that also means learning to cook isn't always appreciated until later on. Prince Harry is said to have proposed to Meghan Markle over an attempted homemade dinner. "[We were] roasting a chicken, trying to roast a chicken," The Duke of Sussex dished, according to International Business Times. On the other hand, Prince William apparently learned how to make bolognese while at St. Andrew's University. "I think that's when he was trying to impress me," Kate once told former "Great British Baking Show" judge Mary Berry (via Town & Country). But, their mother Princess Diana's former chef Darren McGrady said he had his hands full with Harry and William while they were boys — and far from learning the tricks of his trade, the royal children used McGrady's Kensington kitchen as their indoor playground.
"They love cooking now. They didn't love cooking at the time. They were royal children, but they were still children," McGrady let on during an exclusive interview with Mashed. "They didn't really enjoy being in the kitchen other than coming through to either ask what was for dinner or to play hide and seek, because it was raining outside. So William or Harry would come and hide in the kitchen." McGrady also remembered the princes being his volunteer taste testers. "They'd hang around [and ask], 'What are you cooking?'" McGrady recalled. "It would be fun to sort of talk [with] them while I'm roasting chicken. ...And so, they'd come in the kitchen and look and taste, [and I'd ask,] 'What do you think?'"
Of course, neither Harry nor William had any true control over their daily menu. While at Kensington, their royal diet was the result of what McGrady called a "constant battle" between Princess Diana and the princes' nanny, Olga.
Nanny Olga didn't like it when Harry and William ate with Princess Diana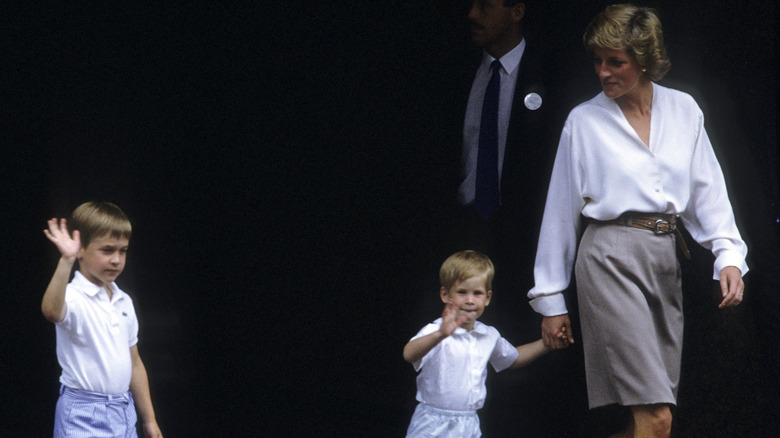 Anwar Hussein/Getty Images
Princess Diana liked to eat with Harry and William when she could. For the princes' nanny, Olga, that was something of a nightmare scenario. "Nanny Olga would actually be sent down into the staff dining room," Darren McGrady exclusively told Mashed. "She would complain, 'I bet she's letting those boys have hamburgers. They should be eating their greens and their vegetables.'"
Diana didn't mind if her kids indulged in fast food once in a while. The princess' former butler Paul Burrell told Mirror Online that the three used to enjoy snacking on "Big Mac[s] and fries" while watching their preferred TV shows. Nanny Olga played bad cop, however. "Whenever the princess was on an engagement for lunch, Olga would always make sure [to say], 'I want you to do plenty of cabbage, greens, broccoli, everything. I want all of those on the plate,'" McGrady remembered her as saying. "It was a constant battle between the nanny and the princess."
As for William and Harry? If the princes had their way, McGrady said their menus would have been filled with cottage pie and corn, pizza, fried chicken, and french fries. "They were royal princes [with] children's palettes. So no, no green vegetables," the royal chef recalled.
For a taste of the flavors Darren McGrady developed for Diana, Harry, and William, visit CrateChef. Also, be sure to stop by Chef McGrady's website for more royal recipes and culinary inspiration.