The Special Groom's Cake Prince William Chose For His Royal Wedding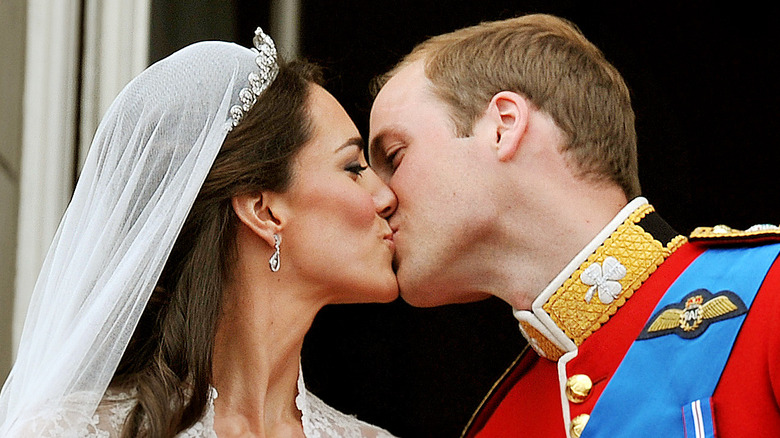 Wpa Pool/Getty Images
In mid-2020, as COVID-19 related lockdowns swept the world, Prince William gave us an endearing insight into his home life. "I'm worried about the waistline of the nation as well with all the chocolate and cakes," William told ambulance workers in Norfolk, England (via Yahoo Finance). "I've done a lot of baking at home. Chocolate goes down very well."
Given the cooking aficionado that his grandfather was, maybe it's not surprising that William turned out to be an amateur baker. The Duke of Cambridge didn't discover his love for chocolate while self-isolating, either. That, he inherited from his grandmother, Queen Elizabeth. Legend has it that Queen Elizabeth used to spend Sundays with her young grandson, passing down the tricks of her trade. While doing so, the queen, Prince Philip, and Prince William would often have tea together. And, according to royal chef, Darren McGrady, eating the queen's favorite teatime cake, chocolate biscuit cake, was never a problem for William (via Today). The young royal grew to like it so much that he requested a chocolate biscuit cake as his groom's cake for his 2011 wedding to Kate Middleton.
William's groom's cake couldn't be simpler to make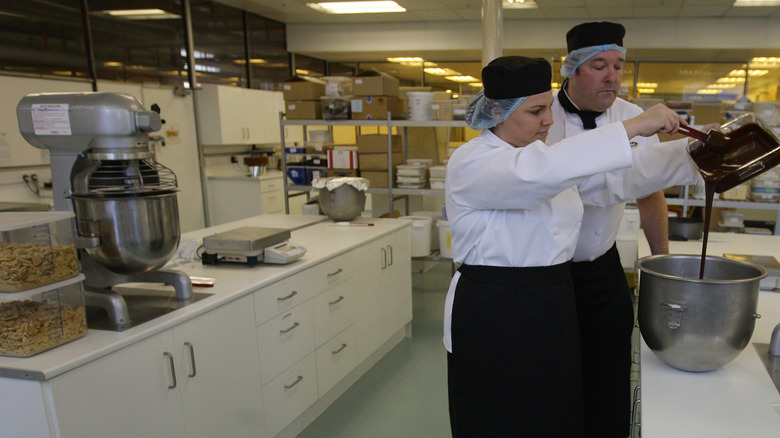 Wpa Pool/Getty Images
There's no doubt that it's royally impressive, but Prince William's groom's cake also couldn't be easier to make, according to Darren McGrady who gave the world a youtube tutorial in honor of the Duke and Duchess of Cambridge's 10th wedding anniversary. It's a decadent mix of dark chocolate, egg, butter, and rich tea biscuits (graham crackers will do the trick if you're in a pinch). Want McGrady's master tip? Don't take any shortcuts when breaking up your biscuits. You'll want to break them by hand into "walnut-sized pieces," because, as per McGrady, "it's all about the texture." You'd better bet that the cake contains the darkest chocolate available. McGrady previously dished to Express that Queen Elizabeth "likes chocolate, but only dark chocolate, the darker the better."
As for Kate Middleton? She may not have ordered it for her wedding, but her favorite dessert is, per what chef Rody Warot told People, molasses and butter-rich sticky toffy pudding.