Padma Lakshmi Shared What It Was Like Learning To Cook From Her Mother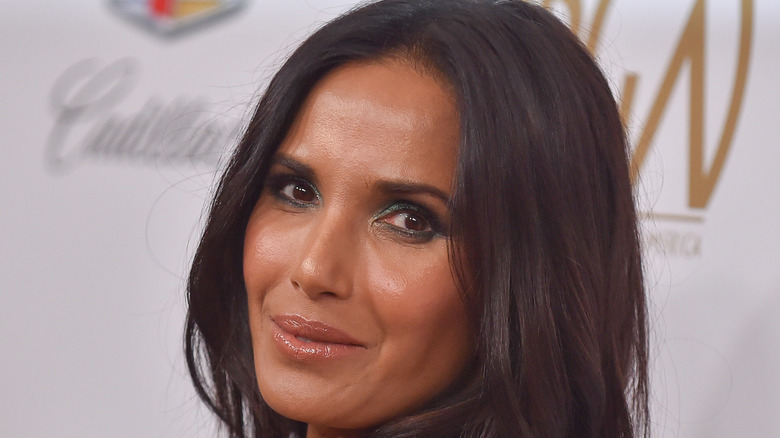 DFree/Shutterstock
Everything Padma Lakshmi touches turns to gold. Want your new cooking competition series to bring home an Emmy nomination? You tap Lakshmi to host, judge, or produce the project. The cookbook author and "Top Chef" host and executive producer has many accolades under her cooking apron, such her two-time Emmy nomination for Outstanding Host for a Reality-Competition Program (via padmalakshmi.com).
While Lakshmi never attended a proper school for the culinary arts, she did attend her mother's version of culinary school everyday in their family kitchen. "She was a nurse for over 50 years, and she was on her feet all day long. She was also a single mom for much of my childhood, so she was extremely efficient and fast in the kitchen," Lakshmi told People. "She didn't have the luxury of spending four hours at the stove." This led to her mom being fluent in the kitchen and an expert at 30-minute meals, Lakshmi explained. When it came time for her to step up and help take the reins, her mom didn't hold back. "She was a tyrant in the kitchen, but in a very loving, benevolent way," the chef recalled.
Knowing this, it's easy to see why Lakshmi is such a natural in and around the kitchen. Cooking was her favorite childhood pastime, and it's something she's been able to pass on and enjoy with her daughter as well.
Padma Lakshmi is now the teacher, not the student
Quarantine gave Padma Lakshmi an opportunity to reconnect with her home-cooking, a part of her that fans had been dying to see again since she made the transition from chef to celebrity judge on TV. "I don't know why that it surprises people that I'm a good cook!" she told People. "Maybe it's because people don't actually see me cook on TV anymore, but I love sharing and teaching people about the food I love." Eager to share her original recipes and love of food with fans, Lakshmi started a casual kitchen miniseries on her Instagram.
With a daughter of her own, Padma Lakshmi has assumed the role of teacher in the kitchen. "Krishna is a great cook, and loves experimenting with ingredients," she said of her 11-year-old mini-me. "It's been great to see her gain confidence and simply have fun in the kitchen." Every so often followers are treated to a mother-daughter demo as part of her Instagram cooking series. Their most recent video featured the homemade tomato sauce recipe found in the back of her new children's picture book, "Tomatoes for Neela" (via Instagram).