Aldi Shoppers Can't Wait To Try These Jumbo Holiday Cookie Kits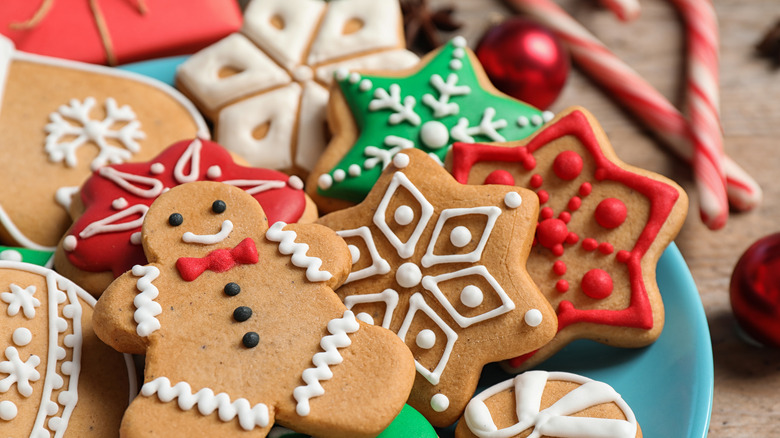 New Africa/Shutterstock
Now that we have officially entered the month of December, it's beginning to look at lot like Christmas. There are so many things to love about the most wonderful time of year, from the thrill of holiday shopping, the constant chance of snow, and the abundance of Christmas decorations everywhere in sight. But the best part? Sitting around the fire with a warm cup of cocoa, whether you are watching "Home Alone" or are simply surrounded by friends, family, and loved ones. And let's not forget about all of the delicious sweet treats that we get to enjoy this time of year, from peppermint pudding to gingerbread cheesecake.
While everyone has their go-to dessert that they like to indulge in on a cold and snowy night, cookies are up there as one of America's top winter treats. According to a survey conducted by Taste of Home, every state has a favorite Christmas cookie. While Delaware and Vermont natives love a classic chocolate chip, South Dakotans dig a plain and simple sugar cookie. 
While baking and decorating Christmas cookies is one of many people's favorite Christmas traditions, sometimes it can be hard to find time in your stressful holiday schedule for this time-consuming activity. Thankfully, Aldi is making Christmas cookies easy and approachable for everyone this holiday season, with their all-new jumbo holiday cookie kits.
Aldi is our best friend this holiday season
It's time to celebrate. Aldi is putting not one, but two jumbo holiday cookie kits on shelves this holiday season. User @aldi.mademedoit took to Instagram to celebrate this festive fortune with a photo of the two different types of jumbo cookie kits: Santa's Sugar & Spice and Reindeer Crunch."This is going to be a hard one to choose!" the Aldi fan captioned the post.
While Santa's Sugar & Spice boasts delicious cinnamon and caramel flavors, the Reindeer Crunch mix includes a blend of white chocolate and caramel. The comment section mirrored @aldi.mademedoit's excitement, with responses ranging from "this might be a fun one for movie night" to "if you see these I must have you get me some." One user's comment expressed exactly what many of us were thinking: "Just get both."
These Baker's Corner cookie kits come with a pan and have the capacity to create nine, extremely large, cookies. With these magical, stress-free cookie kits, you'll be showing up to Christmas parties with goodies galore, minus the time and effort. What could be better than that? Thanks, Aldi!