Bobby Flay's Cookbook Challenge Has Fans Showing Off On Instagram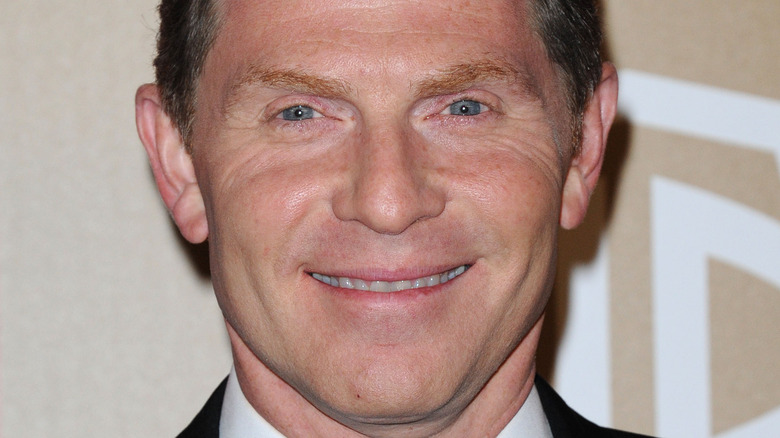 DFree/Shutterstock
Anyone who loves watching cooking competitions can't miss "Beat Bobby Flay," a show where two chefs face off and the winner gets to take on Bobby Flay in a cooking contest, per Food Network. The show even spawned a cookbook with the same name that came out in October. According to Penguin Random House, the book collects recipes seen in the show and showcases Flay's creations alongside items from competitors that ended up beating Flay.
Flay has been promoting the cookbook on Instagram and recently posted a picture of it with the caption reading, "Swipe through to see more of YOUR dishes...prepared using the #BeatBobbyFlayCookbook. I love seeing how it all comes together in your home kitchens so thanks for continuing to tag me so I can check it out." And it would appear that he really does look at people's recipe creations from the book, as he re-posted several photos by people having fun with his picadillo, tortilla soup, and other dishes in their own kitchens. The post has helped spawn an unofficial "Beat Bobby Flay" cookbook challenge, with more fans posting their own takes on Flay's recipes each day.
Instagram is trying to beat Bobby Flay
Social media has taken to the "Beat Bobby Flay" cookbook challenge with enthusiasm, proudly posting their home-cooked dishes next to the corresponding pages from the book. Instagram user @cookies1364 showed off a post reading, "Thank you @bobbyflay for the inspiration and great cookbook #beatbobbyflaycookbook I'm on my culinary journey. 8 recipes down so many more to go." Another user took to Instagram to show off their spaghetti carbonara, and @theresecdvm posted a photo of some good-looking shrimp scampi over polenta.
If you have always wanted to take on Flay, the time has come. This cooking challenge gives chefs of every caliber a chance to show off their kitchen prowess and create a meal worthy of appearing on "Beat Bobby Flay." With any luck, you might even get a shoutout from the chef himself or at the very least, impress your friends with your kitchen prowess. Check out Flay's tagged photos on Instagram to see more of his home-cooking opponents.