Rachael Ray Is Turning Heads With These 'Cute' Roast Potatoes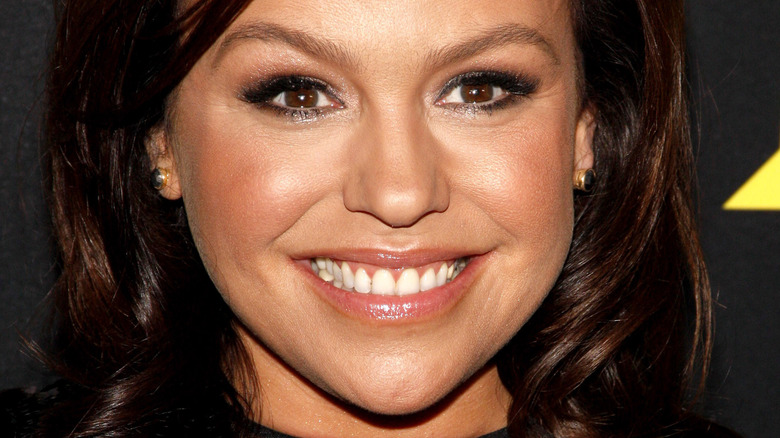 Tinseltown/Shutterstock
Baked potatoes tend to look like grumpy old men — all those craggy lumps and wilted potato skin. And sure, throwing a little cheese and sour cream on top can help (and it's certainly delicious). But is it enough to make your potato "cute?" If fluffy, roasted potatoes with a palatable aesthetic is your jam, then rejoice in this new tutelage from the queen of 30-minute meals. Rachael Ray is here to Benjamin Button your twice-baked potatoes, transforming them from cranky octogenarians to adorable little tater tots, and she's created an Instagram how-to so that we can all emulate her transformation at home.
Remember the days when 30-minute meals still necessitated a 30-minute TV show? Not in 2021, friends. Now you can pack a 30-minute meal into a 30-second Instagram video, like the one Ray posted this week, complete with all the instructions you need to create what Ray calls "the perfect side dish for my Pork Chops with Sweet Onions and Apples!" The ingredients, a video tutorial, and a cross-reference to another recipe, all in a one-minute Instagram reel. What a time to be alive.
"Looks delicious!" one user said of Ray's twice-baked potatoes, while another commented, "YUM twice baked is one of our families favs but this is less labour intensive!! love it." There's even a self-proclaimed "Lunch Lady" in the comments section, who feeds "three hundred kids a day," and is enamored of Ray's recipe.
Cute and spud-erly delicious
As we all know, beauty is pain. And if you want your potatoes to be as cute as the ones Rachael Ray posted on Instagram, you're going to have to put your spuds through some suffering. As Ray points out, this method works best with a "thin-skinned" tot, like Yukon gold, because the torture will be more effective. Boil those buddies in salted water until they are half-done, then rinse under cold water and slice them in half. For their first trip to the oven, the potatoes only need a little oil, salt, and pepper, but once they've browned under your broiler, take them out for a hefty helping of cheese. Stick them back in, and when your spuds have been roasted to your liking, it's time for toppings. Ray opts for sour cream and chives to complete what she declares "a cute dish."
Ray's ability to still whip up cute potatoes for the masses is a victory in itself after the past couple of years she's had. As she told Extra, Ray has a newfound appreciation for life these days, and not just because of the global pandemic; Ray and her husband, John Cusimano, lost their beloved dog, their upstate New York home (to a fire), and endured extensive flood damage to their apartment in New York after Hurricane Ida in August. But if the hundreds of positive comments on Ray's Instagram post are any indication, the cheerful chef has more than just cute potatoes in her corner.