Rachael Ray Shared Why She And John Feel 'Enriched' After House Fire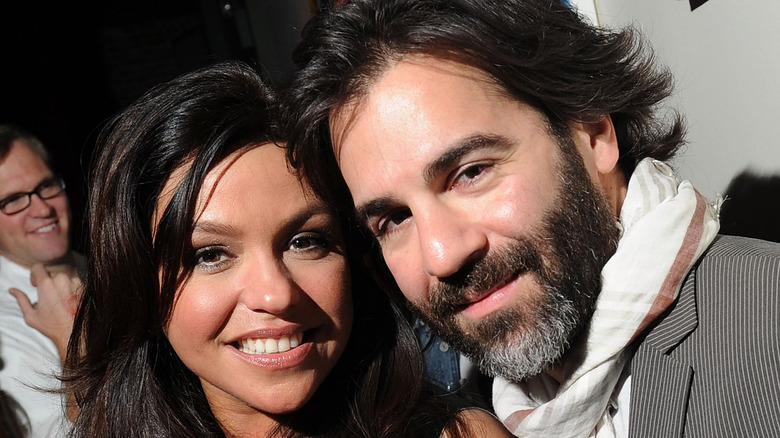 Jason Kempin/Getty Images
When Rachael Ray realized her Lake Luzerne, New York home was on fire in August of 2020, she instantly ran to collect important and beloved belongings, such as photos and medications, and scooped up her dog, scampering around the house until a firefighter found her and told her, "Get out now. You have to go." The fire, which started in the chimney, leveled Ray and husband John Cusimano's home, destroying Ray's 'life's work' and dream kitchen. 
"It took about one hour for this house to come down — and in my mind, it took decades before it was even built," Ray said on the Season 15 premiere of her television program "The Rachael Ray Show." Cusimano also spoke out about losing the couple's home. "We literally were just watching our house burn and burn and burn. It wouldn't stop ... Then we went up there the next day ... and there's devastation everywhere. We were like, 'Oh my God, there's no house left'" (via USA Today).
Rachael Ray and John connect through loss
In the months since the fire, Rachael Ray and John Cusimano have rebuilt their home, staying "as close to the original as we could [get]" (via People). The loss and subsequent rebuilding of her home have been humbling for Ray, who recently posted on Instagram about the experience, stating that it reinforced her marriage and helped her to understand the concept of gratitude. 
She wrote about how she misses her belongings but holds onto the memories associated with them, which has led to a deeper admiration for and respect for life. "In this way, our losses have enriched us," Ray wrote. "We've found a different definition and mindset of what it is to be at home. You look at what you have, not what you don't have. And that is where home is." Ray concludes the post with #ThisMustBeThePlace, a nod to her latest book title, which goes beyond cookbook to explore Ray's own stories about what "make[s] a house a home" (via Penguin Random House).