Jermaine Dupri Dishes On The Meaning Behind His Vegan Ice Cream Flavors - Exclusive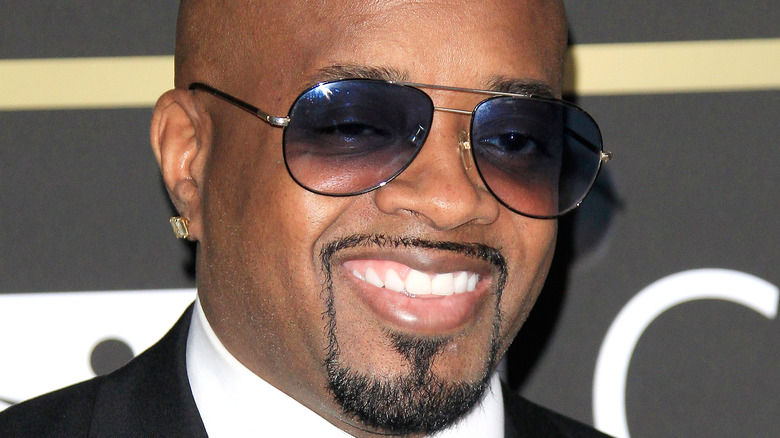 Joe Seer/Shutterstock
Music mogul Jermaine Dupri adopted a vegan lifestyle almost 16 years ago to better his health. Though it hasn't always been easy to find vegan foods, as he told Mashed in an exclusive interview. "Being vegan, I'm pretty much a connoisseur of knowing what we don't have in the marketplace," he said. Because his career often takes him on the road, Dupri will usually stop at restaurants that friends recommend in various cities. But, as he's found, vegan offerings are usually slim pickings — and almost always when he asks for a vegan dessert, he's served a fruit plate. "I just ordered a $200 meal. I don't want a fruit plate," he said.
Fed up with the slim pickings for the sweet stuff, Dupri decided to create his own vegan ice cream line — JD's Vegan — which he recently released. Dupri was very specific about the taste and texture he wanted his ice cream to have, and was very involved in its development. Currently, there are six flavors of JD's Vegan, and Dupri tasted every one multiple times until his team got it right. Dupri said his daughter is also a chocolate aficionado, and she assisted her dad with taste-testing seven different chocolates before deciding on the one for the flavor, "Chocolate My Way."
Another one is the key lime pie flavor — the pie is Dupri's favorite dessert, and his ice cream tastes remarkably like the treat, ultra creamy and tart yet sweet with bits of pie crust mixed in. Dupri even admitted he would like this particular flavor to be, in a way, a gateway to veganism. "Hopefully, it will start to sway people to understand ... Although it's dessert, it's a hundred times healthier than you eating the other [kind]." He also shared what's behind the names of each flavor.
JD's Vegan flavors are named after Jermaine Dupri's hits, and his hometown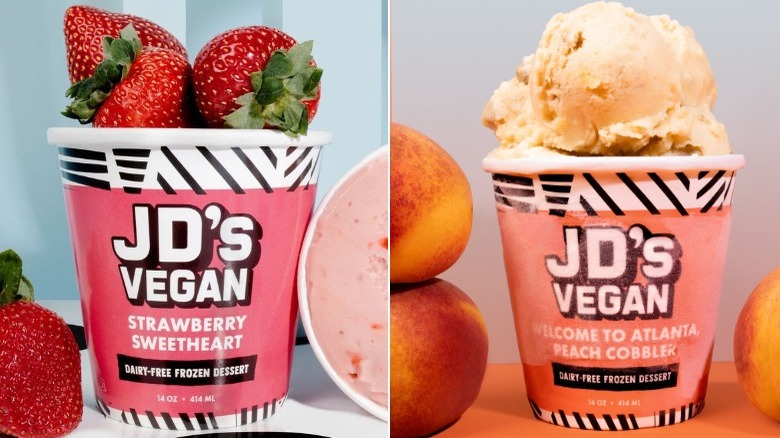 Jessica Ramirez/MindMedium
Jermaine Dupri really takes the creation of JD's Vegan to heart, as helping people improve their health and lives through veganism is his personal mission. So, it comes as no surprise that he's also personally invested in the names of the six JD's Vegan flavors. As the entertainer and his team were developing the ice creams, they began with flavors that Dupri loves and then came up with names that fit him as well. 
For example, JD's Vegan Strawberry Sweetheart (full of coconut cream, strawberry puree, and strawberry pieces blended to silky smoothness) is named for "Sweetheart," the song he wrote and performed with Mariah Carey. "And then we started naming [all of] them after records of mine," Dupri said. JD's Vegan intensely chocolatey flavor Chocolate My Way is named for Usher's breakthrough second album "My Way," which Dupri co-produced. 
One of Dupri's early hits, "Welcome to Atlanta," is also the name given to JD Vegan's luscious Peach Cobbler flavor. Atlanta is in fact his hometown, and as such, the flavor (404) Cookies & Cream (stuffed with vegan cream-filled chocolate cookies) is named for the city's area code. As the company continues to introduce new flavors, it's a safe bet that they'll also be sprinkled with the titles of Dupri's many Grammy-winning songs and albums, as well as personal mementoes.
All six flavors of Jermaine Dupri's vegan ice cream can be purchased from the JD's Vegan website and at Walmart.com and Walmart stores nationally starting this month.