Fudge Might Have Been Invented In Baltimore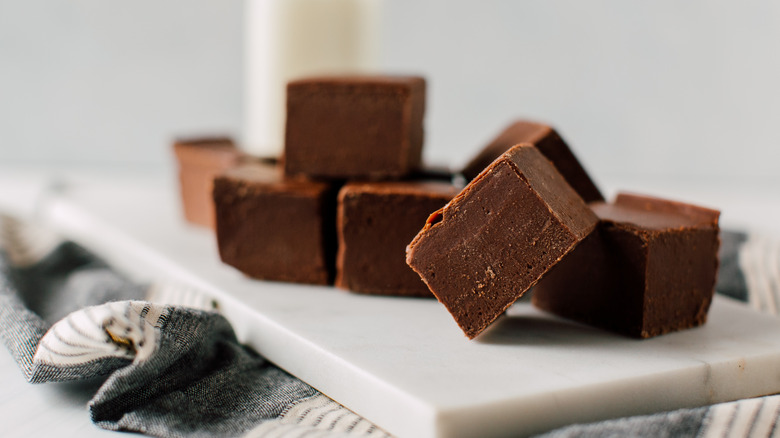 Katheryn Moran/Shutterstock
We may receive a commission on purchases made from links.
Oh, fudge! The creamy, chewy treat has been a staple of candy stores, ice cream parlors, and dessert tables for the past century. Fudge comes in a wide variety of flavors, including peanut butter, vanilla, butter pecan, strawberry, and of course, traditional chocolate. The recipe contains just a few ingredients and is incredibly easy for just about anyone to master. Generally made from butter, sugar, and milk or heavy cream, other ingredients like nuts, fruits, candies, and extracts may be added to create unique flavors. Whether you eat it as a square or melted into a hot sauce on top of your sundae, fudge is an indulgence like no other.
The word "fudge" actually existed far before the confection itself. Since the early 19th century, the term has been used to describe something annoying or foolish, according to Chowhound. When used as a verb, it can also mean to cheat or to exceed the proper bounds of something (via Merriam-Webster). And if you've ever seen the classic holiday film "A Christmas Story," it can also be used as the PG version of the mother of all curse words. It is widely believed that fudge, the candy we all know and love, originated in Baltimore, Maryland. Here are some accounts of why this sweet notion may very well be true.
Fudge has a rich history in Charm City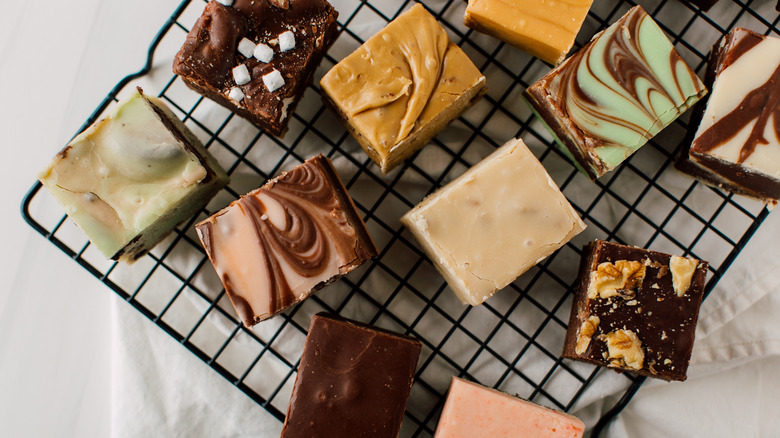 Katheryn Moran/Shutterstock
Fudge has been around for a little over a century, and it's an American-born product. According to The Nibble, the first fudge recipes ever made called for exact measurements and involved constant stirring in reaching the perfect consistency. And as legend states, it all started in the town of Baltimore. Food journalist and historian John F. Mariani wrote in "The Dictionary of American Food and Drink" that he believes fudge was indeed invented in Baltimore. His evidence includes a letter written in 1921 by Vassar College alumna Emelyn Battersby Hartridge, who contended that her schoolmate's cousin made the first batch of fudge, and it was a huge hit among students who were lucky enough to sample it. The note also mentions a Baltimore grocery store that sold fudge for 40 cents per pound in 1886 (via The Baltimore Sun).
Shortly after getting her first taste of glorious fudge, Hartridge whipped up a whopping 30 pounds of it for a school event. The university's magazine, "Vassar Alumnae/i Quarterly," even claimed that the sweet became so popular that "students would make it in the middle of the night, dangerously diverting the gas from their lamps for the task" (via Mental Floss). Word rapidly spread to other women's schools, whose students developed their own fudge recipes, and the sweet treat slowly became a staple in Maryland.