TGI Fridays 2021 Holiday Menu Includes A Merry Margarita
TGI Fridays just launched its brand new 2021 holiday menu with list of sweet new holiday drinks and premium entrees designed to get diners in the mood to celebrate. This festive new culinary line-up likely comes as no surprise to TGI Friday fans, who are accustomed to the chain's creative seasonal offerings. From releasing a six-layered rainbow cake in support of Pride month in June, to getting romantic with a "Most Loved" Day menu and half price bottles of wine on Valentine's Day, TGI Fridays never seems to pass up an opportunity to celebrate a special occasion, via PR Newswire.
This year, the chain's holiday menu features three new cocktails, including a Merry Margarita, made with Jose Cuervo Silver, triple sec, and a dash of colorful cranberry, and the vodka-based Ultimate Claus for Celebration cocktail, flavored with tart apple and green cotton candy. Pumpkin Spice Latte fans might want to try the new Pumpkin Spice Latte Martini, which combines classic pumpkin spice ingredients like Monin Spiced Pumpkin Purée and half and half with more spicy libations like Kahlua and Captain Morgan Spiced Rum, according to PR Newswire.
And the only thing better than sipping on a cocktail is doing it in anticipation of an entree on its way. 
The holiday menu includes a number of premium entrees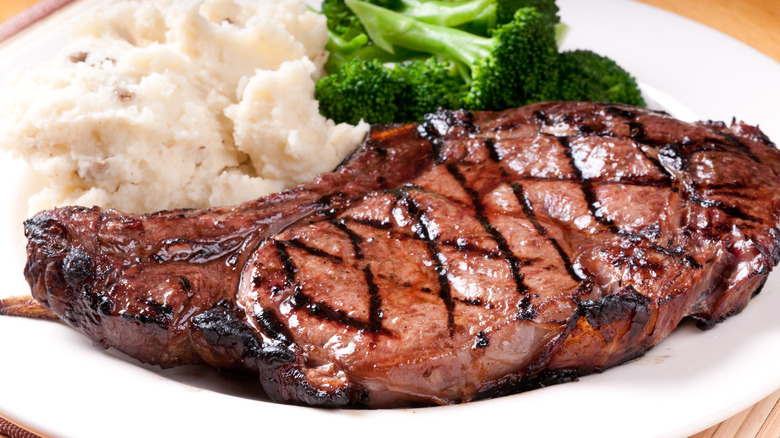 Wirestock Creators/Shutterstock
Festive drinks aren't the only new thing on the TGI Friday's menu. Customers can also pair these holiday cocktails with four new premium seasonal entrees. Seafood fans might be intrigued by the Catch of the Season, which features crispy beer-battered Cod Fillets and Fried Shrimp, or the new Speared + Seared dish, which delivers 6 ounces of juicy grilled Sirloin and a serving of Shrimp Skewers basted and grilled in Whiskey-Glaze. Friday's new menu also includes fan-favorite pairings for meat lovers, with its new Crispy Whiskey Combo, which delivers a hefty half-rack of double-basted pork Big Ribs and Fried Shrimp, and the hearty Top Shelf Pairing, which couples a half-rack of double-basted pork Big Ribs with hickory-seasoned grilled chicken, all with their signature Whiskey-Glaze. All new entrees will also be completed with sides of mashed potatoes and lemon-butter broccoli.
"No matter your plans for the holidays this year, Fridays is giving guests a fun way to enjoy good food and drinks, both at home and in our restaurants. Fridays is a place to celebrate the good times, both big and small, with family and friends, and we know that celebrating is even more important during the holidays," Sara Bittorf, Chief Experience Officer at TGI Fridays, said of the new holiday menu, via PR Newswire.