Trader Joe's Fans Can't Wait To Try This Peppermint Cookie Mix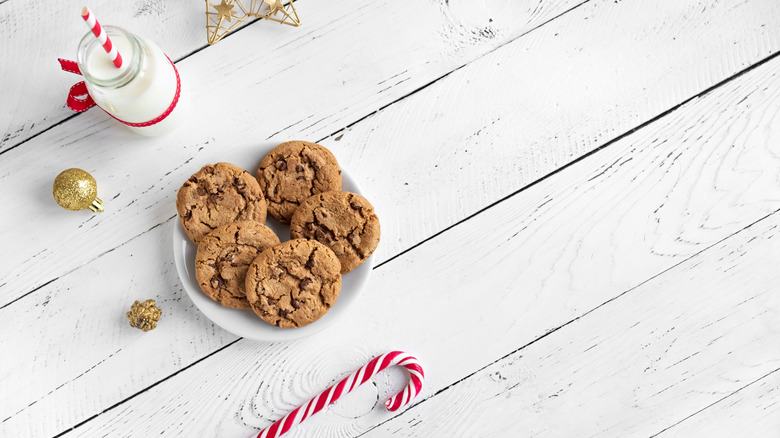 Oksana Mizina/Shutterstock
It's that time of year to start saying goodbye to pumpkin and giving a big hello to peppermint. Holiday season is officially upon us, and for those that use the month of December as an excuse to eat as much peppermint as possible, it's a great time to be a Trader Joe's shopper. In fact, if grocery stores earned report cards during the holidays, Trader Joe's would get an A+ in holiday-inspired snacks and treats (not to mention having a killer wine selection).
From Peppermint Pretzel Slims to the beloved Candy Cane Joe-Joe's, and Cranberry Chèvre Goat Cheese to Almond Nog, the grocery chain's array of holiday goodies always has the Internet spazzing out in excitement. When December 1 came around, Trader Joe's understood the assignment, and now there's yet one more peppermint-flavored dessert that fans are dying to get their hands on this season. The best part? It costs less than $5.
Customers rate Trader Joe's peppermint cookie mix 8/10
As with almost all of Trader Joe's products, customers were quick to nab the Peppermint Chocolate Chunk Cookie Mix, a recurring holiday favorite among TJ's fans. The mix features a chocolate chip cookie base with added pieces of real white chocolate and peppermint shavings. The consensus seems to be that buyers are very happy with the holiday product, noting that, as far as Christmas cookies go, this is by far one of the easiest and fastest recipes to follow, per Instagram account @traderjoesfoodreviews. "I hoard these every season #sorrynotsorry," one fan commented. Another customer even recommended adding a scoop of TJ's candy cane-flavored ice cream in the middle of two cookies for a tasty ice cream sandwich.
While more than a majority of the reviews and comments on the post were positive, some did complain of the cookies tasting a little dry. One customer shared they had to add water to the mix to help with adding in moisture. On the other hand, the original Instagram poster gave the cookie mix a rating of 8/10, and said the treats came out "slightly chewy and soft." So, it could be a matter of preferred taste or the heat at which different ovens bake at. Either way, err on the side of caution when baking, because you can always keep cookies in for an extra minute or two but once they're burnt and rock hard, there's no going back! This mix retails for $3.99, so be sure to grab a canister at your local Trader Joe's before it's gone!