Yes, A Bed That Dispenses Skittles Does Exist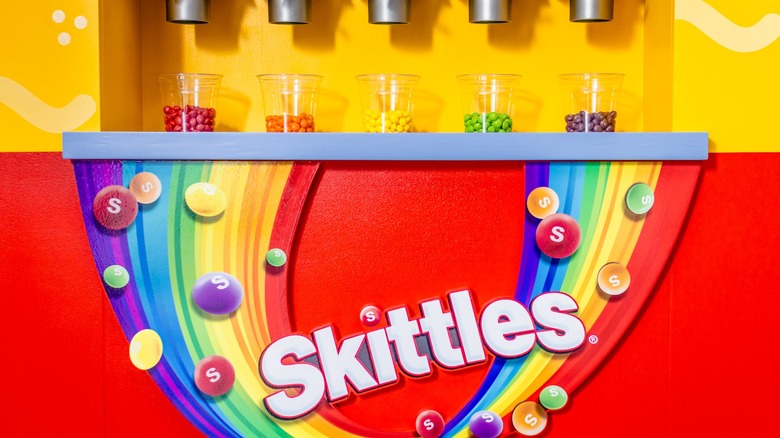 Skittles
Ever since the first "Willy Wonka & The Chocolate Factory" back in 1971, many children and adults have had sweet nights spent dreaming of skipping around in a world made entirely out of candy and chocolate. While creating an entire world out of chocolate — trees, soil, rivers, and all — is still a reality that exists only in dreams, Skittles has been making candy dreams come true for many, one candy dispenser at a time.
Although Skittles vending machines that let you pick and mix your favorites of their rainbow-colored candies do exist, they seem to be few and far between. And according to one lucky Redditor who did happen to chance upon a Skittles vending machine, they felt the price wasn't worth it at "5 bucks for the equivalent of a small pack from the gas station." That is unless you're Kylie Jenner or worked at her fancy Kyle Cosmetics headquarters that has its own custom-made, pink-colored, Skittles dispensing machine (via US Magazine). For the rest of the world, it was a trip to the supermarket every time a Skittles craving needed to be fixed.
But there's good news! Skittles is launching a one-of-a-kind candy dispenser that is attached to a bed. Yes, you're reading right. All candy-filled dreams are about to turn into reality because there's an actual bed that dispenses Skittles!
There's a Skittles dispenser that comes with a bed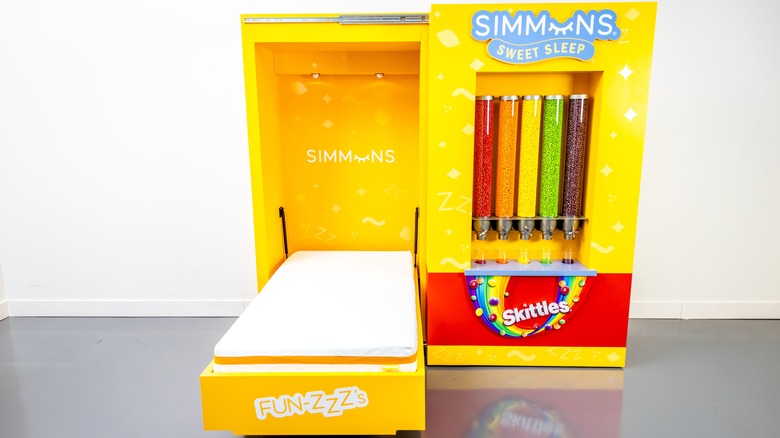 Skittles
Skittles partnered with the Simmons mattress company to release a bed that has never existed before: a bed attached to a Skittles dispenser. The special collaboration was born from both companies' "love all things bold, colorful and unpredictable," according to a joint press release. 
The yellow Sweet Sleep Bed, as it's called, comes with five Skittles candy dispensers and has a pull-out Murphy bed with a twin-sized mattress attached on the side. During the day you can push the bed up, slide it behind the dispenser, and only have the Skittles dispenser on display. At night, slide it out, pull down the mattress and enjoy an endless supply of the rainbow candies in bed.
Even better than the news of the existence of a bed that dispenses Skittles is that one Skittles fan can get the candy dispensing bed for all of $1.50. Yep, this bed could be yours for the price of a bag of Skittles. The Simmons Sweet Sleep Bed goes on sale after 1 pm EDT on Monday, September 13. Since this is a one-of-a-kind item, it will be sold to whoever purchases it first through Simmons' website. A Willy Wonka-style candy land may not exist (yet), but a bed that dispenses Skittles may be about as close to it as you'll ever be!