Andrew Zimmern Went To Charlize Theron's Party And We Have FOMO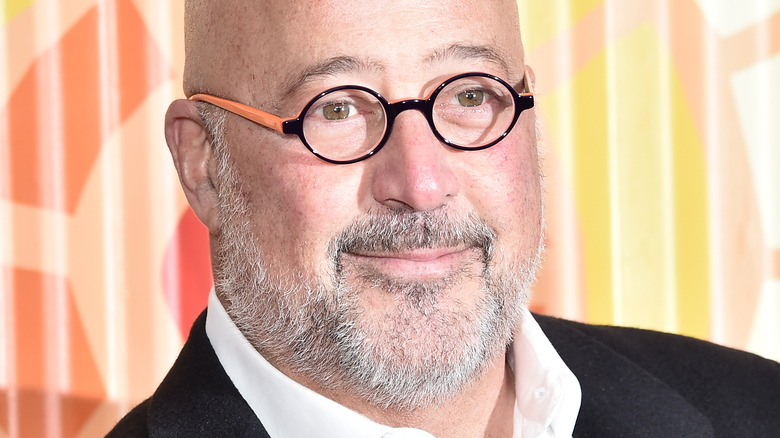 Steven Ferdman/Getty Images
What did you do this weekend? Oh, you know, laundry, errands, played blackjack while doing shots from a luge, and gorged on decadent cake at Charlize's holiday party. Said no one but Andrew Zimmern in his recent Instagram post featuring a stunning photo with his friend and apparent consummate party host, Charlize Theron.
When famous TV personality and chef, Andrew Zimmern, tells you that you threw a good party with great food, you can basically tell people that you earned a Michelin star. The "Bizarre Foods" host and four-time James Beard Award winner is considered to be "one of the most versatile and knowledgeable personalities" in the culinary industry, according to his Travel Channel bio. So, of course, he gets to party with golden goddess Charlize Theron, who has been a fan of his show for years (via People). When they met, Zimmern expressed his mutual admiration for the actress and her foundation's work to combat the AIDS epidemic in South Africa, a cause he has repeatedly supported with both advocacy and fundraising efforts in the years since their initial meeting. 
Beyond mutual admiration, a friendship was born, and as if that wasn't enough to make fans green with jealousy, we now have envy issues over Zimmern's latest Instagram post recounting the entertaining party he recently attended, which was hosted by the blonde beauty herself. Our invites must have been lost in the mail.
Zimmern posts about Theron's envy-worthy party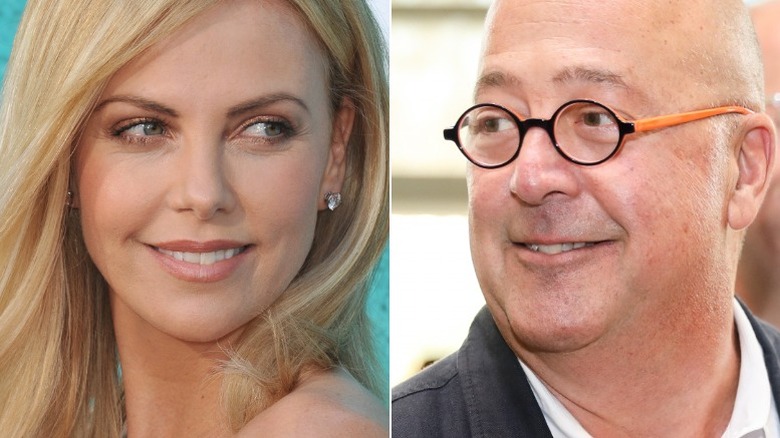 Paul Smith/Featureflash, Kelly Sullivan/Getty Images
A holiday party with gambling, famous guests, delicious food, and more? Yes, please. Andrew Zimmern, known as Chefaz on Instagram, raved about the FOMO-inducing holiday party hosted by Charlize Theron he went to over the weekend. The famous chef and food show host said, "And you throw the best parties, too! Insane food, blackjack, craps, roulette, best photo booth ever, shot luge, Michael Bolton, that cake...and your huge heart."
The picture in the post, which features Theron flashing a peace sign with her arm around a smirking Zimmern, seemed to be a particular point of either praise, jealousy, or some combination of both. The professional level lighting on display in the snap is on point, or maybe everyone just looks fantastic when basking in the glow of Charlize Theron. Author Dan Buettner even chimed in with a cheeky comment, seemingly aimed at Zimmern, that said what we're all thinking: "You're looking a little too smug."
Other commenters praised Zimmern's beard and applauded Theron's charity work and down-to-earth personality. Comments on Michael Bolton being thrown into the list of party favors show mixed reviews. Whether you like the flute-playing icon or not, there was a shot luge and cake, folks! It seems that all party-goers had a great time, and those who didn't attend at least got some hot tips for their own holiday festivities.