Costco Fans Can't Wait To Get Their Hands On This Gooey Cinnamon Treat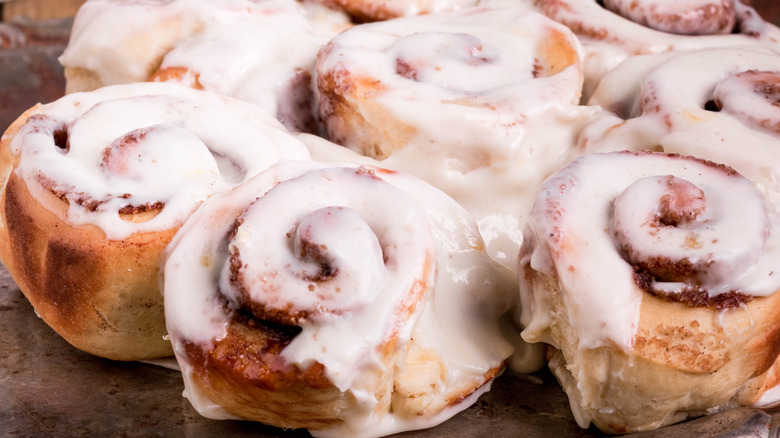 TalyaAL/Shutterstock
If you've never heard of breakfast dessert, it's a thing. Whether it's a fluffy glazed donut, a hefty slice of melt-in-your-mouth coffee cake, or a plate of waffles covered in powdered sugar and whipped cream, sometimes you just need a sweet treat to start off your morning. While there are plenty of sugary delights to choose from when you're planning your breakfast or brunch menu, one of the most popular breakfast breads of late has been cinnamon rolls, according to Statista. Some 67 million Americans indulged in the gooey rolls in 2020, ranking them well above honey buns, Danishes, or turnovers. Smothered in frosting and sporting a deliciously doughy center, cinnamon rolls are a delightful thing to bite into first thing in the morning.
While you can bake cinnamon rolls from scratch, that certainly takes a lot of time and effort (although it's often well worth it in the end). Thankfully, you can also find premade options at many grocery stores that can taste just as good as the homemade version. A recent Instagram post revealed one such find at Costco. Here's why people are freaking out about the drool-worthy cinnamon roll alternative.
Costco's cinnamon pull-apart bread is perfect for brunch
Rather than put in hours of hard work making homemade cinnamon rolls, you could snag what some say is an equally tasty product at Costco. A fan of the warehouse grocery store, @costcobuys, shared an Instagram photo of the retailer's cinnamon pull-a-part bread that has returned to shelves in certain locations. "These are made with sweet dough, brown sugar, cinnamon, and a cream cheese icing," the caption reads, adding, "If you haven't tried this yet you HAVE TO!" According to the post, the rolls come in packs of 12 small pieces and cost just $6.99. They come already frosted, which means you can eat them straight from the package — but they can also be heated in the oven to warm up to a perfectly gooey consistency.
Shoppers on Instagram seem to be very excited about the comeback of this popular bakery item, so shop knowing that Costco's cinnamon pull-a-part bread may not remain in bakery sections for very long. Many social media users tagged their friends saying they would make a trip to the store just for the treat. If you scoop one tray up and don't get around to eating it right away, no worries; commenters who have bought the rolls before say they freeze surprisingly well.