Padma Lakshmi's Crispy Roasted Potatoes Recipe Is Super Easy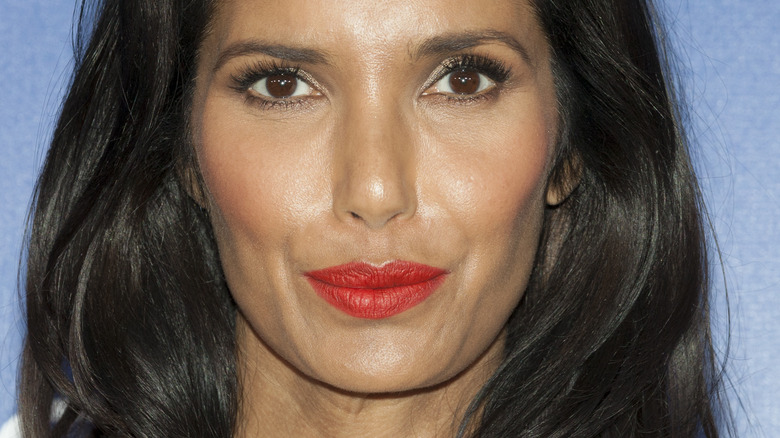 lev radin/Shutterstock
Indian-American best-selling cookbook author, businesswoman, and television host Padma Lakshmi knows a thing or two about whipping up the perfect dish, no matter the occasion. Her impressive resume includes being the host of Bravo's "Top Chef," a cooking competition show, Hulu's "Taste the Nation," a program in which she travels across the U.S. to get a taste of various regional cuisines, and Food Network's "Planet Food" documentary series, according to her website. Throughout her food career, she has discovered an array of delicious foods from around the globe and has shared her findings with hungry audiences in a passionate, relatable, and genuine fashion.
Padma recently shared a video on her Instagram page with the recipe for crispy roasted potatoes. The good news is that this recipe is pretty foolproof, so if you're looking for a tasty appetizer or side to serve this winter, this could be added to your menu rotation.
To make Padma Lakshmi's crispy roasted potatoes, gather these ingredients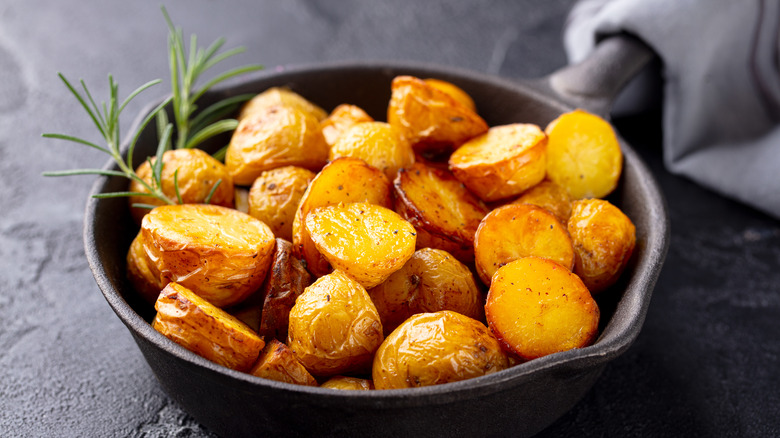 Anna_Pustynnikova/Shutterstock
Padma Lakshmi uses just a few simple ingredients to make these crispy roasted potatoes: Some good quality small red or white taters, olive oil, and seasonings. For this batch, Padma chooses the spicy, deep Vulcan's Fire Salt from The Spice House, a seasoning blend that commenters on her Instagram video could not stop praising. She also adds a dash of amchoor, a dried mango powder, for a fruity, tart kick.
Lakshmi parboils the potatoes until they just begin to soften. (Pro tip: Cooking your potatoes thoroughly too soon before popping them in the oven to roast will leave them mushy.) Then, she douses them in olive oil, slices them in half (keeping the skins on) and roasts them face down on a baking tray so they can get nice and crispy. The seasoning comes next, then the potatoes go back into the oven for an additional 8-10 minutes.
Clearly, this recipe is pretty basic, but commenters on the Instagram post still had some questions. Specifically, one intrepid potato roaster asked, "How long did you boil the potatoes for?" Lakshmi replied, "I'd say 15-18 minutes should be more than enough," indicating that the time will vary depending on the size of the potato, and that what you're shooting for with parboiling is basically just fork tenderness. "I still love my hidden valley ranch seasoning on my potatoes though," another helpful commenter chimed in. Okay, so maybe this recipe could have been even easier.