Why Some Fans Think Mellisa Is The 'Villain' Of School Of Chocolate
Netflix's latest reality food show "School of Chocolate" has been praised for a lot of things. Despite being a competition, the show saw ace chocolatier Amaury Guichon truly guide and mentor his team of pro chefs through challenges instead of secretly pointing out to the camera everything that they were doing wrong, indicating that the show was more of a "school" than a competition. Furthermore, rather than eliminating contestants after each episode, the show has contestants asked to sit out in the following challenge, and then given a one-on-one class with Guichon, to hone their chocolate sculpting skills. CNET even went on to say that Netflix should model more of its shows after the refreshingly different "School of Chocolate."
Despite the rave reviews that both the show and its hosts have gotten for being a competition show that's so welcomingly different from its more cutthroat counterparts, fans couldn't help but point out a few instances where "School of Chocolate" did indeed feel like it was a reality show.
Most notably, fans on Reddit think that Netflix's portrayal of the contestant and former restaurant owner Mellisa Root as the show's "villain" was a huge giveaway that "School of Chocolate," despite its novelty, was a reality show after all.
Reddit thinks that Mellisa was purposely shown as the 'villain'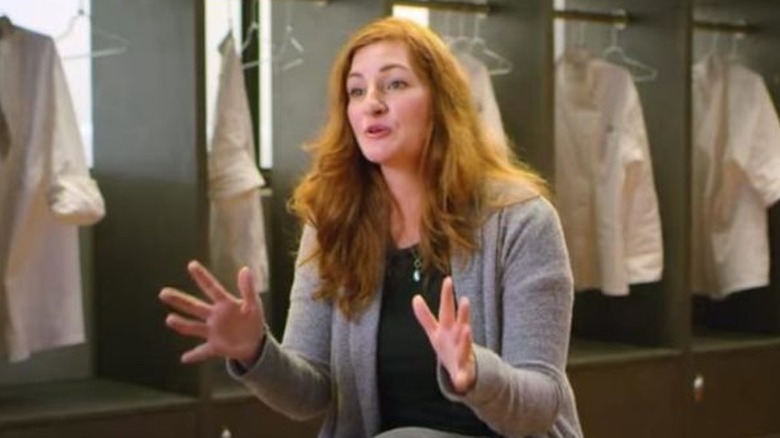 Netflix
Throughout the various episodes of "School of Chocolate," fans thought that Root came across as very snarky, arrogant, and aggressively competitive. In a Reddit thread discussing Root's behavior on the show, various fans admitted that they didn't like her attitude and how egoistical she was about her own skills whilst being salty when somebody else won.
One comment, however, pointed out that Root had previously confessed in an Instagram Live video that she was not doing well in her personal life at the time of filming, having recently lost her restaurant before filming, and didn't mean to come across the way in which she did. 
It was very much possible, the Redditor said, that Netflix edited Root in a way to make her come across as more arrogant than she really was.
Others, too, thought that whilst Root wasn't the friendliest, it was due to the unusually friendly nature of "School of Chocolate" that she came across as an excessively cutthroat contestant. A comment on a separate Reddit thread, as well, agreed with this sentiment, adding that had Root been on another, more conventional competition show, she would have fit right in.
Some even thought that Root was actually very hardworking and perhaps felt overshadowed and robbed of the credit that she deserved by other, more vocal, and flashy contestants. Fans pointed out that her fellow contestants did seem friendly towards her and respected her so it could very well be the way in which Netflix edited the show that made Root look like the "villain," to add some drama to the reality show, as opposed to Root herself.