TikTok Is Rolling Its Eyes At This Chick-Fil-A 'Karen'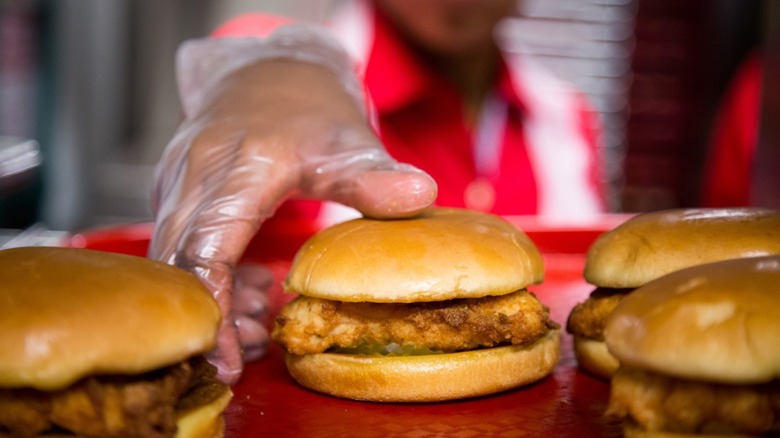 Bloomberg/Getty
Unfortunately, fast food joints have recently had their share of unruly customers who have been less than polite to staff. These customers, typically dubbed "Karens" by social media users, are often entitled and unreasonable — whether or not they sport the infamous "speak to the manager" haircut. For example, Mashed reported in October about a Karen encounter at a McDonald's, recorded and posted on TikTok, during which a customer demanded her money back and hit the safety screen in front of the cashier before storming away.
It appears that Chick-fil-A is also not immune to Karens. Yet another viral TikTok video, taken at a Chick-fil-A restaurant at the Westfield Century City mall in Los Angeles, California, has surfaced detailing an alarming confrontation between a customer and the staff. By the time the video cuts in, the Karen can be seen behind the counter, where he screamed at staff, "Give me my f***ing food!" repeatedly. But the employees wouldn't take it; they yelled in response, and one woman even had to be held back by her co-workers. "no one gets paid enough for this s***" @notcaleyy captioned the video.
Fast food employees are standing up to demand respect and safety
As of this writing, @notcaleyy's TikTok video has 2.7 million views and comments raining in to support the staff. "I love seeing fast food employees stick up for themselves!!" wrote one user. "... kuddos for the staff for staying together against him," commented another. Other viewers noted the security guard who was urging onlookers to move back rather than interfering with the Karen directly. "Security stopping the wrong ppl. He needs to stop the guy behind the counter," they said.
Security for fast food and restaurant workers has become a pressing issue as of late, with some employees being not only threatened, but also attacked. This past October, for example, Business Insider reported that a McDonald's employee suffered a blow to the head when a customer, upset with how long she had to wait for her food, hit them with a French fry scoop. Let's hope for the safety of all food workers that Karens soon become a thing of the past.