The Truth About Team Holidazers From Holiday Wars: Season 3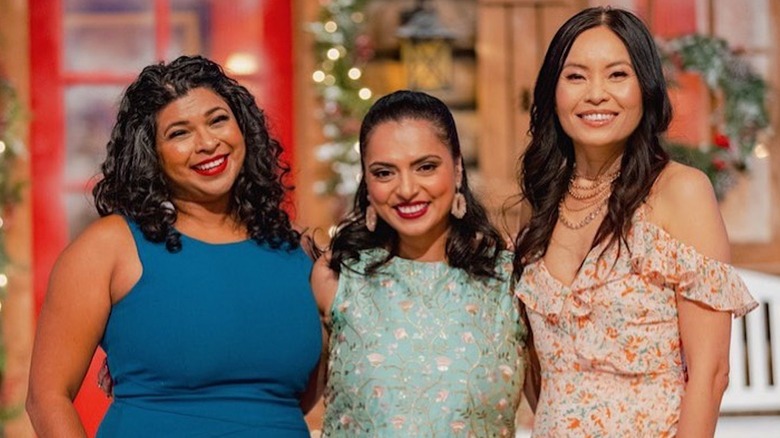 Food Network
Season 3 of "Holiday Wars" is in full swing on Food Network, with teams competing to showcase their baking talents and win big. Despite their laid-back name, Team Holidazers is up for the challenge and focused on bringing their artistic skills to the holiday table.
According to Food Network, this season will be hosted by a trio of accomplished chefs who know how to judge a competition. Maneet Chauhan is a full-time judge on "Chopped" who has competed on "Iron Chef" and earned a James Beard Award of Excellence for her culinary skills. The show's second judge is the Season 6 winner of "The Next Food Network Star," Aarti Sequeria, whose unique culinary style made her a regular on the network, beginning with her show "Aarti Party" in 2010. They are also joined by Shinmin Lee, a highly-skilled pastry chef and judge of Food Network's "Halloween Wars," who is bringing her expert opinion to the holiday arena. These skilled chefs are no strangers to good culinary competition and are ready to judge.
"Holiday Wars" challenges nine teams of three bakers each who are masters in the art of sugar work and specialty cakes to compete against each other to win $25,000 and endless bragging rights. One of the competing teams, The Holidazers, is made up of three charming and capable bakers who have their eyes on the prize.
Team Holidazers has competition experience and talent
Meet the members of Team Holidazers from Season 3 of "Holiday Wars" on Food Network: Tammy Varela, Piper Guy, and Brad Lamb. Varela is a self-taught baker from Georgia who entered into the world of cake art after creating her own wedding cake (per Forsyth County News). She enjoyed baking so much that she began taking online courses and trying out recipes from Pinterest that focused on cake art and sugar sculpture. As her passion for baking grew, Tammy started competing in cake competitions and never looked back.
Piper Guy is the owner of Patty Cake Piper in Palmdale, California. She is living her dream as a specialty cake creator and bringing her baking competition experience to The Holidazers. Piper was a competitor in Season 3 of Food Network's "Cake Wars," as well as "Baketopia" on HBO Max (via Bustle). She excels at detailed fondant work and realistic specialty cakes.
Last but certainly not least, Brad Lamb is the final member of Team Holidazers. According to St. Louis Magazine, Brad is a gifted cake artist who competed on Food Network's "Food Network Challenge" and featured his culinary creations on "Road to Halloween Wars." Lamb is a talented cake sculptor who brings an artistic and creative flair to his team. 
Team Holidazers hopes to combine their knowledge from competition experiences and unique styles and techniques to impress the judges and win Season 3 of "Holiday Wars" on Food Network.