Alton Brown's Dog Had An Adorable Reaction To This Holiday Classic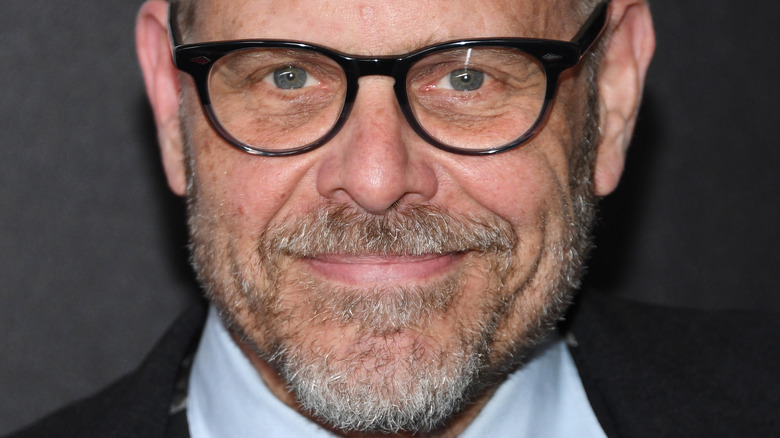 Dimitrios Kambouris/Getty Images
Do dogs actually watch TV, or is that pure anthropomorphism on our part, to think that our furry friends share all of our interests? Canine psychology expert Stanley Coren, PhD, believes that dogs are attracted to shows featuring other animals, but says that this only applies to the type of shows that feature on Animal Planet, and says dogs typically have no interest in cartoon animals (via Hill's). Well, tell this to chef and Food Network star Alton Brown! He clearly seems to feel that his Boston Terrier, Scabigail, is a fan of classic claymation.
A video clip Brown recently posted on Instagram starts off by showing a TV playing a scene from "Rudolph the Red-Nosed Reindeer," the Rankin-Bass Christmas special beloved by boomers up through Gen Alpha. The camera then pans out to show Scabigail ensconced in a comfy chair and apparently staring straight at the back of said chair. Apparently things look different from where Alton stands, though, since he asks her "Are you watching TV again?" It's what the sweet-faced Scabigail did next, though, that had Instagram giving a collective "Aww!!"
TV fan or not, Scabigail is the cutest thing on the internet
While Scabigail is at first doing her best to ignore Brown's rude attempts to interrupt her chair-staring (or TV watching), she eventually turns and gives him what seems to be a sad, slightly reproachful, stare. As one person commented, "She is thinking 'Why are you bothering me during my stories!'" Another interpreted Scabigail's reaction as "That look saying – Don't you dare judge me!!." Yet another Scabigail fan applauded her taste, saying "she appreciates the classics!!"
A few commenters seemed to share Brown's conviction that their pet is a TV addict. One said, "My cat watched it intently like that too," while another explained that their cat likes "only shows with cats or Premier League football." (We're guessing she's a fan of the Wolverhampton Wanderers or perhaps she prefers West Ham.) A few of Brown's fans even supplied a possible reason for Scabigail's apparent interest in that tense bit of dialogue between Rudolph and Herbie the Elf. They speculated that Scabigail, too, longed to be, as one Instagrammer (and Herbie) put it, "in dee pen dent."
Most, however, chimed in with sentiments like "Oh damn, that's cute" and "That is the MOST ADORABLE THING I'VE SEEN IN A WEEK." Needless to say, hearts and smilies were also out in full force, as well they should. Whether or not she's a fan of quality Christmas programming, we'd still let Scabigail guide our sleigh any time!